Filmography from : Adam Folk
Actor :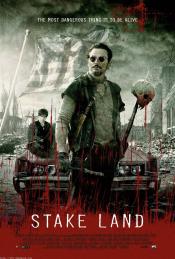 Stake Land
,
Jim Mickle
, 2010
America is a lost nation. When an epidemic of vampirism strikes, humans find themselves on the run from vicious, feral beasts. Cities are tombs and survivors cling together in rural pockets, fearful of nightfall. When his family is slaughtered, young Martin (Gossip Girl's Connor Paolo) is taken under the wing of a grizzled, wayward hunter (In the Cut's Nick Damici) whose new prey are the undead. Simply known as Mister, the vampire...
Mulberry St
,
Jim Mickle
, 2006
A mysterious virus, carried by mutant rats, creates pandemonium in New York City in which rat-bite victims turn into homicidal rat-mutants. This movie centers on six tenants of a small apartment complex on the Lower East Side Mulberry Street as they fight to survive the night against the rats and rapidly multiplying cannibal mutants. ...