Filmography from : Aimee Graham
Actor :
Nightstalker
,
Chris Fisher
, 2002
...
Perdita Durango
,
Álex de la Iglesia
, 1997
Perdita Durango meets Romeo Dolorosa, a criminal who is some sort of priest of a satanic cult and keeps crossing the Mexican-US border safely. He's asked to do a job for crime boss Santos, involving the traffic of human foetuses for the cosmetic industry. Meanwhile, he needs to make a sacrifice to please his gods and a young American couple comes in his and Perdita's way. They are being followed by an unlucky DEA agent, the father of the...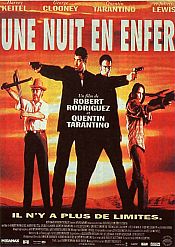 From Dusk Till Dawn
,
Robert Rodriguez
, 1996
The Gecko brothers are fugitives, and are on the run after a very interesting bank robbery. They kidnap the Fuller family, and drive to a Mexican bar to meet with other on-the-run criminals. It turns out the crooks in the bar are vampires, and if the Gecko brothers and the Fuller family can survive from dusk until dawn, the "crooks" will let em' go. ...