AUTOSTOP ROSSO SANGUE (1977)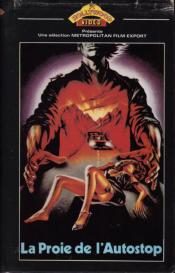 Walter Mancini is a egostical newspaper editor whom is driving across California with his spiteful wife, Eve, on a weekend getaway to save their troubled marriage. But things take a turn when they pick up a straded motorist, named Adam, whom takes them hostage revealing himself to be a fugitive running from both the police and his two acomplices after robbing a bank and making off with all the loot. But things are not always as they seem as Walter and Eve try to find a way to not only get rid of their unwanted car guest, but find a way to deal with each other when both see the tempting offer of the stolen $2 million in cash Adam always has on him.
Original Title : AUTOSTOP ROSSO SANGUE
Director(s) :
Pasquale Festa Campanile
Writer(s) : Peter Kane (novel 'The Violencethe Fury'),  , Aldo Crudo (screen treatment) and, Ottavio Jemma (screenplay) and, Aldo Crudo (screenplay) and, Pasquale Festa Campanile (screenplay)
Genre(s) : Crime | Drama | Thriller
Length : 104 min
Year : 1977
Country : Italy
Langage : Italian | English
Coulor : Color(Eastmancolor)
Ratio : 185 : 1
Sound : Mono
US Release : 1970-01-01
Aka(s) :
(original title) - Autostop rosso sangue
Brazil - O Fugitivo Sanguinário
Canada (English title) - The Naked Prey
Colombia - La furia y la violencia
Spain - El cínico y la casada
France - La proie de l'autostop
UK (video title) - Death Drive
Greece (transliterated ISO-LATIN-1 title) - Oto-stop
Norway - Med morderen i baksetet
Turkey (Turkish title) - Oto stop
USA - Hitch Hike
USA (DVD title) - Hitch Hike
USA (video title) - Hitchhike: Last House on the Left
USA - The Naked Prey
West Germany - Der Todes-Trip
West Germany - Wenn Du krepierst - lebe ich!
Actors :
 
Franco Nero Walter Mancini
Corinne Cléry Eve Mancini
David Hess Adam Konitz
Joshua Sinclair Oaks (as John Loffredo)
Carlo Puri Hawk
Ignazio Spalla Bar Owner (as Pedro Sanchez)
Leonardo Scavino Mendoza (as Leon Lenor)
Mónica Zanchi Girl at Camp Site
Benito Pacifico Highway Patrolman #1
Angelo Ragusa Highway Patrolman #2
Luigi Birri Motorcycle Punk #2
Robert Sommer Harry Stetson
Ann Ferguson Lucy Stetson
Fausto Di Bella Motorcycle Punk #1
Nick Alexander Policeman (voice) (uncredited)
John P Dulaney Man at Camp (uncredited)
Edward Mannix Mendoza (voice) (uncredited)
No comments.
All informations are coming from http://www.imdb.com
This page has been seen 11046 times.