BATORU ROWAIARU

(2000)

In the beginning of the 21st Century, the economy of Japan is near a total collapse, with high rates of unemployment and students boycotting their classes. The government approves the Battle Royale Act, where one class is randomly selected and the students are sent to an island wearing necklaces with few supplies and one weapon. After three days, they have to kill each other and the survivor wins his or her own life as a prize. The 42 students of a ninth-grade class are selected to participate in the survival game and abducted while traveling in their bus. Under the command of their former teacher Kitano, they have to eliminate each other following the rules of the sadistic game where only one wins.




Original Title : BATORU ROWAIARU

Genre(s) : Adventure, Drama, Sci-Fi, Thriller

Length : 114 min | 122 min (director's cut)Year : 2000Country : JapanLangage : JapaneseCoulor : ColorRatio : 1.78 : 1

Sound : Dolby Digital

French Release : 2001-11-21US Release : 2012-05-25

Aka(s) :
(original title) - Batoru rowaiaru
Argentina - Batalla real
Bulgaria (Bulgarian title) - Кралска битка
Brazil - Batalha Real
Chile (alternative title) - Batalla Real
Chile - Battle Royale
Germany - Battle Royale
Spain - Battle Royale
Finland - Battle Royale
France - Battle Royale
UK - Battle Royale
Greece - Battle Royale
Hungary - Battle Royale
Italy - Battle Royale
Japan (3-D version) - Batoru rowaiaru 3D
Japan (English title) (director's cut) - Battle Royale: Special Version
Lithuania - Karališkas mušis
Mexico - Juego Sangriento
Norway - Battle Royale
Poland - Battle Royale
Portugal - A Batalha Real
Serbia - Borba do poslednjeg
Russia - Королевская битва
Sweden - Battle Royale
Turkey (Turkish title) - Ölüm oyunu
USA - Battle Royale
USA (director's cut) - Battle Royale: Special Edition
World-wide (English title) - Battle Royale
World-wide (English title) (3-D version) - Battle Royale 3-D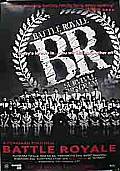 - YOUR COMMENTS -
Be careful, every litigious comments will be deleted.

greed
- /12/18 at 07:25
# 2
not people, kids, 14 and 15 years olds. in case you (or someone else) didnt know, in japan 9th grade isnt highschool yet and they are only like 14 or 15...it would have been different if they had been adults at least...but they wernt they were kids...which is sick and i didnt like this movie...at all...but the bandana guy..kawada is super hot!!
His rating:
3/10
rogelio
- /08/18 at 06:53
# 1
This movie looks awesome because 42 people have to kill each other off so they can live.fujiyoshi death scene is funny lol!!!!!!!!!!!!!!!!!!!!!!!!!!! !!!!!!!!!!!!!!!!!!!!!!!!!!!!!! !!!!!!!!!!!!!!!!!!!!!!!!!!!!!! !!!!!!!!!!!!!!!!!!!
His rating:
10/10
Leave your comment
All informations are coming from http://www.imdb.com
This page has been seen 66053 times.