BATTLE FOR THE PLANET OF THE APES (1973)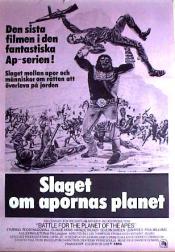 After conquering the oppressive humans in "Conquest for the Planet of the Apes", Caeser(Roddy McDowal) must now keep the peace amongst the humans and apes. Gorilla General Aldo(Claude Akins) views things differently, and tries to cause an ape civil war. In the meantime, other human survivors learn of the ape city, and decide they want to take back civilization for themselves, thus setting the stage of warring ape factions and humans.
Original Title : BATTLE FOR THE PLANET OF THE APES
Director(s) :
J. Lee Thompson
Writer(s) : Pierre Boulle, Paul Dehn
Year : 1973
Country : USA
Langage : English
Coulor : Color
Ratio : 2.35 : 1
Sound : Mono(Westrex Recording System)
French Released : 1973-08-08
US Released : 1973-06-15
Aka(s) :
Battle for the Planet of the Apes - USA (original title)
La bataille de la planète des singes - Canada (French title) / France
A Batalha do Planeta dos Macacos - Brazil (imdb display title)
A majmok bolygója V. - A csata - Hungary (imdb display title)
Anno 2670 ultimo atto - Italy
Batalha pelo Planeta dos Macacos - Portugal
Bitka za planetu majmuna - Serbia (imdb display title)
Bitwa o planete malp - Poland
Colonization of the Planet of the Apes - (undefined)
Die Schlacht um den Planet der Affen - West Germany
Kampen om abernes planet - Denmark
La conquista del planeta de los simios - Spain
Mahi ston planiti ton pithikon - Greece (transliterated ISO-LATIN-1 title)
Maymunlar Cehenneminde Savas - Turkey (imdb display title) (Turkish title)
Slaget om Apeplaneten - Norway (imdb display title)
Slaget om apornas planet - Sweden
Taistelu apinoiden planeetasta - Finland
Actors :
Roddy McDowall - Caesar
Claude Akins - Aldo
Natalie Trundy - Lisa
Severn Darden - Kolp
Lew Ayres - Mandemus
Paul Williams - Virgil
Austin Stoker - MacDonald
Noah Keen - Teacher
Richard Eastham - Mutant Captain
France Nuyen - Alma
Paul Stevens - Mendez
Heather Lowe - Doctor
Bobby Porter - Cornelius
Michael Stearns - Jake
Cal Wilson - Soldier
Pat Cardi - Young Chimp
John Landis - Jake's Friend
Andy Knight - Mutant on Motorcycle
John Huston - The Lawgiver
James Bacon - Gorilla Soldier (uncredited)
Eric Braeden - Dr. Otto Hasslein (archive sound) (uncredited)
Colleen Camp - Julie - Lisa's Servant (uncredited)
Paula Crist - Girl in Corral (uncredited)
Jimmy Gambina - Orangutan (uncredited)
David Gerrold - Chimp (uncredited)
Dominique Green - Female Ape (uncredited)
Kim Hunter - Dr. Zira (archive sound) (uncredited)
Sam Maronie - Mutant Technician (uncredited)
Lou Wagner - Busboy (archive footage) (uncredited)

No comments.
All informations are coming from http://www.imdb.com
This page has been seen 1255 times.