BEST FRIENDS FOREVER (2013)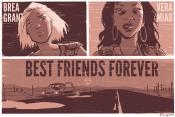 Two girls, a '76 AMC Pacer, the open road, and an impending nuclear apocalypse. 'Best Friends Forever' is a dark comedy and sci-fi horror film, combining equal parts buddy film, road trip, and nuclear apocalypse story... but with girls. Harriet (Grant), the perpetual but unsuccessful optimist, has finally figured out how to take her passion for comics and turn it into a responsible life. But when she and Reba (Miao), her seemingly devil-may-care best friend, hit the road to deliver her to grad school in Austin, Texas, and her new life, an impending nuclear apocalypse endangers even the best friendships and best-laid plans.
Original Title : BEST FRIENDS FOREVER
Director(s) :
Brea Grant
Writer(s) : Brea Grant, Vera Miao
Genre(s) : Drama
Length : 113 min
Year : 2013
Country : USA
Langage : English
Coulor : Color
Ratio : 16:9 HD
US Release : 2013-01-19
Actors :
(in alphabetical order)  
Alex Berg Alex 1
Tamara Camille Olivia
Jon Michael Davis Man (scenes deleted)
Stevin Espinoza Mattias
Alex Fernie Alex 2
Tom Fox Davies Sebastian
Brea Grant Harriet
Ben Hethcoat Kyle
Riccardo LeBron Austinite
Sean Maher Sean
Christopher Jon Martin The Sheriff
Vera Miao Reba
Nora Nagatani Woman
Glen Powell Nick
Sean Riggs Chris
Mylinda Royer Lesly
Leslie Santa Cruz Woman
Stacey Storey Amanda
Kit Williamson Kit
Constance Wu Melanie
No comments.
All informations are coming from http://www.imdb.com
This page has been seen 626 times.