Filmography from : Bo Lin Chen
Actor :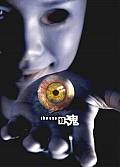 Gin gwai 10
,
Danny Pang
,
Oxide Chun Pang
, 2005
In Thailand, Chongkwai is welcoming his friends Ted and his cousin May and Kofei and his girlfriend April from Hong Kong. While in a tourist tour, they see an accident on the road, and when they return to Chongkwai's home, they decide to tell ghost stories. Chongkwai shows them a mystic book with ten ways to see spirits and they decide to follow the procedures. When Kofei vanishes, April tries to fin him, while Ted and May runs back to Hong...
Qing dian da sheng
,
Jeffrey Lau
, 2005
Taking place in the younger days of the famous monk, Tripitaka, the film tells a fantastical adventure of the monk and his three disciples. On their way to the city of Shache, the monk narrowly escapes an attack from a group of demons. While trying to think of a way to rescue his disciples, he is captured by the king of reptiles and placed under the vigilance of Meiyan, an ugly demon who falls in love with the monk…...