Filmography from : Brittany Allen
Actor :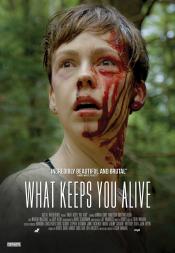 What Keeps You Alive
,
Colin Minihan
, 2018
How much can you really know about another person? The unsettling truth that even those closest to us can harbor hidden dimensions drives this thrillingly unpredictable, blood-stained fear trip. Jackie (Hannah Emily Anderson) and Jules (Brittany Allen) are a couple celebrating their one year anniversary at a secluded cabin in the woods belonging to Jackie's family. From the moment they arrive, something changes in Jules' normally loving...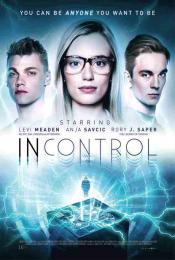 Incontrol
,
Kurtis David Harder
, 2017
Incontrol follows a group of university students who discover a device that allows them to take control of others, and experience the world through someone else. As they push the machine's abilities to its limits, they begin to question the device itself....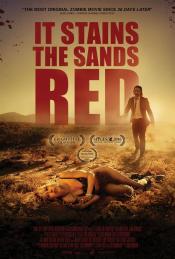 Bloody Sand
,
Colin Minihan
, 2016
In the throes of a zombie apocalypse, a troubled woman from Las Vegas with a dark past finds herself stranded in the desert with a lone and ravenous zombie on her tail....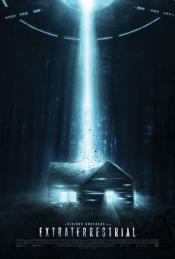 Extraterrestrial
,
Colin Minihan
, 2014
A group of friends on a weekend trip to a cabin in the woods find themselves terrorized by alien visitors....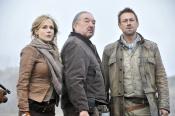 Defiance
,
Michael Nankin
(13 episodes, 2013-2015),
Allan Kroeker
(4 episodes, 2013-2014),
Andy Wolk
(4 episodes, 2013-2014),
Allan Arkush
(4 episodes, 2014-2015),
Larry Shaw
(4 episodes, 2014-2015),
Omar Madha
(2 episodes, 2013),
Scott Stewart
(2 episodes, 2013),
Mairzee Almas
(2 episodes, 2015),
Félix Enríquez Alcalá
(2 episodes, 2015),
Todd Slavkin
(1 episode, 2013),
Thomas Burstyn
(1 episode, 2015), 2013
The series is set in the near future, where aliens known collectively as Votans have come to Earth seeking a new home after their solar system was destroyed. However, when they reached Earth, they discovered despite a prolonged negotiation with the government on Earth, they were not welcome. Rather than turn away, they began a war with the humans as they are determined to make Earth their new home. During the war, the Votans dropped terraformers...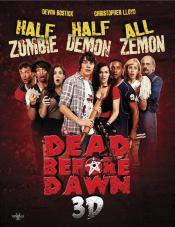 Dead Before Dawn 3D
,
April Mullen
, 2012
Casper Galloway'S future is one giant question mark. With only two weeks until college graduation, he still lives with his mother, is indecisive to a fault, and is one credit away from failing. But just when Casper thinks things couldn't get any worse, he and his friends accidentally unleash a curse that causes people to kill themselves and turn into Zombie Demons, aka Zemons. Armed with a slew of homemade weapons and a Winnebago, the team...
Warehouse 13
,
Chris Fisher
(10 episodes, 2010-2013),
Constantine Makris
(9 episodes, 2009-2012),
Tawnia McKiernan
(7 episodes, 2009-2011),
Jack Kenny
(7 episodes, 2010-2014),
Stephen Surjik
(6 episodes, 2009-2011),
Jace Alexander
(2 episodes, 2009),
Vincent Misiano
(2 episodes, 2009),
Michael W Watkins
(2 episodes, 2009),
Millicent Shelton
(2 episodes, 2011-2013),
Michael McMurray
(2 episodes, 2012-2014),
Howard Deutch
(2 episodes, 2012-2013),
Ken Girotti
(1 episode, 2009),
Eric Laneuville
(1 episode, 2009),
Matt Earl Beesley
(1 episode, 2010),
Stephen Cragg
(1 episode, 2010),
Anton Cropper
(1 episode, 2010),
Jeremiah S Chechik
(1 episode, 2011),
Jay Chandrasekhar
(1 episode, 2012),
Andrew Seklir
(1 episode, 2012),
Matthew Hastings
(1 episode, 2013),
Jennifer Lynch
(1 episode, 2013),
Larry Teng
(1 episode, 2013),
Matt Birman
(1 episode, 2014),
Robert Duncan McNeill
(1 episode, 2014), 2009
After saving the life of the President in Washington D.C., a pair of U.S Secret Service agents are whisked away to a covert location in South Dakota that houses supernatural objects that the Regents, an Authority above and outside any government, have collected over the centuries. Their new assignment: retrieve any lost objects and investigate reports of new ones....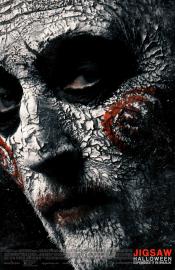 Jigsaw
,
Michael Spierig
,
Peter Spierig
, 0
Bodies are turning up around the city, each having met a uniquely gruesome demise. As the investigation proceeds, evidence points to one man: John Kramer. But how can this be? The man known as Jigsaw has been dead for over a decade. ...