Filmography from : Calum Macnab
Actor :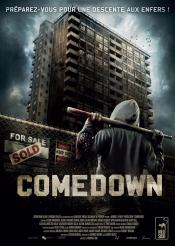 Comedown
,
Menhaj Huda
, 2012
Six friends, who've known each other from childhood, break into the tower block they lived in as kids, now deserted and condemned, to rig-up a pirate radio station, get high and party. When one of the group goes missing, her friends begin to search the dark interior of the tower and soon realize that they are not alone: a resident psychopath lurks in the shadows and is hunting them down, taking them out, one-by-one....
The Firm
,
Nick Love
, 2009
Dom, a young wannabe football casual, who gets drawn into the charismatic but dangerous world of the firm's top boy, Bex. Accepted for his fast mouth and sense of humor, Dom soon becomes one the boys. But as Bex and his ICF gang clash with rival firms across the country and the violence spirals out of control, Dom realizes he wants out - until he learns it's not that easy to simply walk away. ...