CARRIE (2013)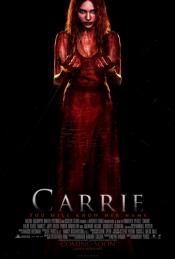 The quiet suburb of Chamberlain, Maine is home to the deeply religious and conservative Margaret White (Moore) and her daughter Carrie (Moretz). Carrie is a sweet but meek outcast whom Margaret has sheltered from society. Gym teacher Miss Desjardin (Greer) tries in vain to protect Carrie from local mean girls led by the popular and haughty Chris Hargenson (Portia Doubleday), but only Chris' best friend, Sue Snell (Gabriella Wilde), regrets their actions. In an effort to make amends, Sue asks her boyfriend, high school heartthrob Tommy Ross (Ansel Elgort), to take Carrie to prom. Pushed to the limit by her peers at the dance, Carrie unleashes telekinetic havoc. Brian De Palma's 1976 film version of "Carrie" earned Oscar nominations for stars Sissy Spacek and Piper Laurie.
Original Title : CARRIE
Director(s) :
Kimberly Peirce
Writer(s) : Roberto Aguirre-Sacasa, Stephen King
Year : 2013
Ratio : 2.35 : 1
Sound : Datasat| Dolby Digital| SDDS
French Released : 2013-12-04
US Released : 2013-10-18
Aka(s) :
Carrie - USA (original title)
Keri - Bosnia and Herzegovina (imdb display title) (Croatian title) / Croatia (imdb display title) / Serbia (imdb display title)
Кери - Bulgaria (Bulgarian title)
Carrie - Hungary (imdb display title)
Carrie, a Estranha - Brazil (imdb display title)
Carrie, la vengeance - France (imdb display title)
Actors :
Chloë Grace Moretz - Carrie White
Ansel Elgort - Tommy Ross
Julianne Moore - Margaret White
Judy Greer - Miss Desjardin
Gabriella Wilde - Sue Snell
Portia Doubleday - Chris Hargensen
Alex Russell - Billy Nolan
Michelle Nolden - Estelle Parsons
Cynthia Preston - Eleanor Snell
Skyler Wexler - Young Carrie
Connor Price - The Beak
Zoë Belkin - Tina
Kyle Mac - Kenny
Samantha Weinstein - Heather
Max Topplin - Jackie Talbott
Kim Roberts - Ms. Arlene Walsh
William MacDonald - Sheriff Otis Doyle
Philip Nozuka - Ernie
Lucy DeLaat - Dress Shop Passerby
Chris Britton - Dr. Dean McDuffy
Alana Randall - Student Dancer #2
Mouna Traoré - Erika Gogan
Karissa Strain - Nikki
Katie Strain - Lizzi
Nykeem Provo - Brad
Travis Hedland - Prom Survivor
Ryan Wilson - Student Dancer #1
Amber Sharp - Mean Girl
Holly Miranda - Cheerleader #1
Chanelle Larocque - Gym Class Mean Girl 5
Natalie Dale - Gym Class Mean Girl 1
Chloe Van Landschoot - Flower Girl
Samantha Hutchinson - Gym Class Mean Girl 4
Julia Caudle - Julia
Shawna Greenspan - Grieving Prom Girl
Chen Annie - Student Dancer #7
Sarah Vance - Student Dancer #8
Jade Poole - Gym Class Mean Girl 2
Amanda Jane Crist - Gym Class Mean Girl 3
Joshua William James - High school student (uncredited)

No comments.
All informations are coming from http://www.imdb.com
This page has been seen 1373 times.