Filmography from : Charlie Anderson
Actor :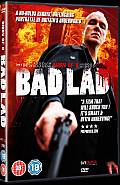 Diary of a Bad Lad
,
Michael Booth
, 2010
Frustrated film maker, Barry Lick (Jonathan Williams), sets out to make a sensationalist crime documentary on the cheap about the charmingly psychopathic Tommy Morghen (Joe O'Byrne), a local businessman involved in property rackets, prostitution, pornography and drug trafficking. But Tommy is more cunning and ruthless than any of the film makers can begin to imagine and mercilessly exploits them for his own ends. Unfortunately Barry is so...
Mrs. Tingle
,
Kevin Williamson
, 1999
The naive, and very bright Leigh Ann Watson is a senior who is one point from being her class' valedictorian and from getting a scholarship to Harvard. That one thing in her way is her sly History teacher, Mrs. Eve Tingle. Mrs. Tingle is the teacher of a cutthroat class, in which Leigh Ann is getting a "C" for. The school's outcast Luke Churner snatches Tingle's upcoming test answers, and delivers it to Leigh Ann. Mrs. Tingle finds it in Leigh...