CHERNOBYL DIARIES (2012)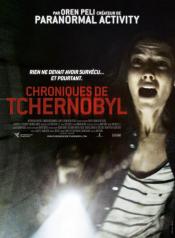 Six tourists hire an extreme tour guide who takes them to the abandoned city Pripyat, the former home to the workers of the Chernobyl nuclear reactor. During their exploration, they soon discover they are not alone.
Original Title : CHERNOBYL DIARIES
Director(s) :

Bradley Parker

(as Brad Parker)
Writer(s) : Oren Peli (screenplay) and, Carey Van Dyke (screenplay) &, Shane Van Dyke (screenplay),  , Oren Peli (story)
Genre(s) : Horror | Thriller
Length : 86 min
Year : 2012
Country : USA
Langage : English
Coulor : Color
Ratio : 185 : 1
Sound : SDDS| Datasat| Dolby Digital
French Release : 2012-07-11
US Release : 2012-05-24
Aka(s) :
(original title) - Chernobyl Diaries
Argentina - Terror en Chernobyl
Bulgaria (Bulgarian title) - Чернобилски Дневници
Brazil - Chernobyl: Sinta a Radiação
Canada (French title) - Journal de Tchernobyl
Chile - Terror en Chernobyl
Spain - Atrapados en Chernóbil
France - Chroniques de Tchernobyl
Croatia - Černobilski dnevnici
Hungary - Ideglelés Csernobilban
Italy - Chernobyl Diaries - La mutazione
Lithuania - Cernobylio dienorasciai
Mexico - Terror en Chernóbil
Peru - Terror en Chernobyl
Poland - Czarnobyl. Reaktor strachu
Portugal - Os Diários de Chernobyl
Romania - Jurnalul terorii
Serbia - Černobiljski dnevnici
Turkey (Turkish title) - Çernobil'in Sirlari
Ukraine - Заборонена зона
Actors :
 
Ingrid Bolsø Berdal Zoe
Dimitri Diatchenko Uri
Olivia Taylor Dudley Natalie
Devin Kelley Amanda
Jesse McCartney Chris
Nathan Phillips Michael
Jonathan Sadowski Paul
Milos Timotijevic Russian Check Point Guard
Milutin Milosevic Ukrainian Thug
Ivan Djordjevic Ukrainian Thug
Ivan Jovic Ukrainian Thug
Zinaida Dedakin Restaurant Owner
Ivana Milutinovic Little Girl
Alex Feldman Medic Goldshimdt
Kristof Konrad Medic Grotzky
Pasha D Lychnikoff Doctor (as Pasha Lynchnikoff)
Jay Kash Humanoid
Colin Conners Humanoid (uncredited)
Zachary Haycock Jared (uncredited)
No comments.
All informations are coming from http://www.imdb.com
This page has been seen 2125 times.