Filmography from : Chi Chang Ho
Actor :
Yan bao fu
,
Lu Po Tu
, 1979
When will they learn that you can push Bruce Lee only so far? Join Mr. Lee as he plunges fist-first into a deadly rivalry between a power-hungry union boss and the mistreated dock workers under his rule. Armend with only his bare fists of fury, he begins a campaign of bone-crunching and assaults against the union that soon escalates into a full scale war....

The Legend of the 7 Golden Vampires
,
Roy Ward Baker
,
Cheh Chang
(uncredited), 1974
Count Dracula journies to a remote Chinese village in the guise of a warlord to support six vampires who are dispirited after the loss of a seventh member of their cult. At the same time, vampire hunter Prof. Van Helsing happens to be lecturing in the country and is persuaded by villagers to help them fight this curse of the ages. ...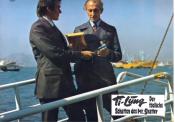 Shatter
,
Michael Carreras
,
Monte Hellman
(uncredited), 1974
...