Filmography from : Chris Riggi
Actor :
Hated
,
Lee Madsen
, 2012
When a young punk rock band starts out in the underground music scene, the only thing they have is each other. But when a childhood friend - with complicated connections to the group - leverages her P.R. skills to get them noticed, they suddenly find themselves on the verge of making it big. The only question is how far they're willing to go in the pursuit of fame and fortune, and who they're willing to leave behind to get there. HATED explores...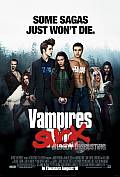 Vampires Suck
,
Jason Friedberg
,
Aaron Seltzer
, 2010
Vampires Suck is a comedy about contemporary teen angst and romance movies. Becca, an anxious, non-vampire teen, is torn between two boys. Before she can choose, Becca must get around her controlling father, who embarrasses Becca by treating her like a child. Meanwhile, Becca's friends contend with their own romantic issues – all of which collide at the prom. ...