Filmography from : Cris George
Actor :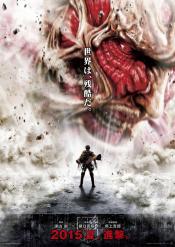 Shingeki no kyojin
,
Shinji Higuchi
, 2015
The sudden arrival of the Titans–mysterious, gigantic humanoid creatures who devour human beings one after the other–brings mankind to the brink of extinction. Fast-forward more than 100 years later. What remains of the human population now live in relative peace behind massive walls that were erected to defend themselves against the Titans. Yet once again, that peace is shattered when a Titan measuring over 50 meters tall smashes through...
Ibara no O
,
Kazuyoshi Katayama
, 2009
A mysterious virus, nicknamed Medusa, is spreading around Japan, turning its victims into stone. Given the impossibility of finding an immediate cure, the government opts for cryopreserving a select group of patients until they come up with a solution. Kasumi, one of the chosen ones, has been asleep for years and her awakening, more than a bed of roses, is a bed of thorns, and happens in the midst of total chaos where monstrous creatures lie in...