DANZA MACABRA (1964)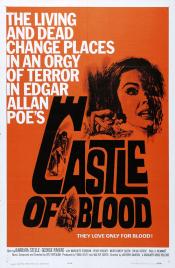 A writer accepts a bet that he cannot spend the night alone in a haunted castle on All Soul's Eve. Once night falls at the castle, several who had been murdered therein return to life, reliving their deaths and seeking to kill the writer for his blood in a vain attempt to stay alive beyond that one night. Barbara Steele, as one of the living dead, tries to aid his escape from the castle.
Original Title : DANZA MACABRA
Director(s) : Sergio Corbucci, Antonio Margheriti
Writer(s) : Sergio Corbucci, Giovanni Grimaldi
Year : 1964
Country : Italy | France
Langage : Italian
Coulor : Black and White
Ratio : 1.85 : 1
Sound : Mono(Westrex Recording System)
French Released : 1965-04-14
US Released : 1964-07-29
Aka(s) :
Danza macabra - Italy (original title)
Castle of Blood - UK / USA
Coffin of Terror - (undefined)
Dança Macabra - Brazil (imdb display title)
Danse Macabre - France (imdb display title)
Dimensions in Death - (undefined)
Edgar Allan Poe's Castle of Blood - (undefined)
La lunga notte de terrore - (undefined)
Makavrios horos - Greece (transliterated ISO-LATIN-1 title)
Terrore - (undefined)
The Castle of Terror - USA
The Long Night of Terror - (undefined)
Tombs of Horror - (undefined)
Tombs of Terror - (undefined)
Actors :
Barbara Steele - Elisabeth Blackwood
Georges Rivière - Alan Foster
Margrete Robsahm - Julia
Arturo Dominici - Dr. Carmus (as Henry Kruger)
Silvano Tranquilli - Edgar Allan Poe (as Montgomery Glenn)
Sylvia Sorrente - Elsi (as Sylvia Sorrent)
Giovanni Cianfriglia - KIller (as Phil Karson)
John Peters
Merry Powers
Umberto Raho - Lord Thomas Blackwood (as Raul H. Newman)
Benito Stefanelli (as Ben Steffen)
Johnny Walters

No comments.
All informations are coming from http://www.imdb.com
This page has been seen 2121 times.