DARK SHADOWS (2012)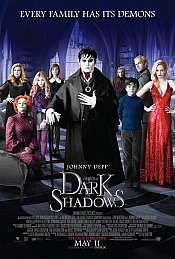 In the year 1752 Joshua and Naomi Collins, with young son Barnabas, set sail from Liverpool, England, to start a new life in America. But even an ocean was not enough to escape the mysterious curse that has plagued their family. Two decades pass, and Barnabas (Johnny Depp) has the world at his feet — or at least the town of Collinsport, Maine. The master of Collinwood Manor, Barnabas is rich, powerful and an inveterate playboy…until he makes the grave mistake of breaking the heart of Angelique Brouchard (Eva Green). A witch, in every sense of the word, Angelique dooms him to a fate worse than death: turning him into a vampire and then burying him alive.
Original Title : DARK SHADOWS
Director(s) :
Tim Burton
Writer(s) : Seth Grahame-Smith (screenplay),  , John August (story) and, Seth Grahame-Smith (story),  , Dan Curtis (television series)
Genre(s) : Comedy | Horror
Length : 113 min
Year : 2012
Country : USA | Australia
Langage : English
Coulor : Color
Ratio : 185 : 1
Sound : Datasat| Dolby Digital
French Release : 2012-05-09
US Release : 2012-05-11
Aka(s) :
Argentina - Sombras tenebrosas
Belgium - Dark Shadows
Bulgaria (Bulgarian title) - Тъмни сенки
Brazil - Sombras da Noite
Chile - Sombras tenebrosas
Czech Republic - Temné stíny
Spain - Sombras tenebrosas
France - Dark Shadows
Georgia - Muqi chrdilebi
Greece - Dark Shadows
Croatia - Sjene tame
Hungary - Éjsötét árnyék
Israel (Hebrew title) - Tzlalim afelim
Italy - Dark Shadows
Lithuania - Nakties seseliai
Peru - Sombras tenebrosas
Poland - Mroczne cienie
Portugal - Sombras da escuridão
Serbia - Mračne senke
Russia - Мрачные тени
Slovakia - Temné tiene
Turkey (Turkish title) - Karanlik Gölgeler
Ukraine - Похмурi тiнi
Uruguay - Sombras tenebrosas
Venezuela - Sombras tenebrosas
Actors :
Cast 
Johnny Depp Barnabas Collins
Michelle Pfeiffer Elizabeth Collins Stoddard
Helena Bonham Carter Dr Julia Hoffman
Eva Green Angelique Bouchard
Jackie Earle Haley Willie Loomis
Jonny Lee Miller Roger Collins
Bella Heathcote Victoria Winters /Josette DuPres
Chloë Grace Moretz Carolyn Stoddard
Gulliver McGrath David Collins (as Gully McGrath)
Ray Shirley Mrs Johnson
Christopher Lee Clarney
Alice Cooper Alice Cooper
Ivan Kaye Joshua Collins
Susanna Cappellaro Naomi Collins
Josephine Butler David's Mother
William Hope Sheriff
Shane Rimmer Board Member 1
Michael Shannon Board Member 2 (as Michael J Shannon)
Harry Taylor Henchman
Glen Mexted Captain Rubberpants
Guy Flanagan Bearded Hippie
Nigel Whitmey Hard Hat 1
Philip Bulcock Hard Hat 2
Sophie Kennedy Clark Hippie Chick 1
Hannah Murray Hippie Chick 2
Victoria Bewick Hippie Chick 3
Sean Mahon Collinsport Cop
Alexia Osborne Young Victoria
Richard Hollis Vicky's Father
Felicity Brangan Vicky's Mother
Michael Anthony Brown Windcliff Doctor
Charlotte Spencer Coat Check Girl
Gabriel Freilich Hippie 3
Justin Tracy Young Barnabus - aged 6
Thomas Grube Construction Worker 1
Jeff Mash Construction Worker 2
Raffey Cassidy Young Angelique
Jonathan Frid Guest
Kathryn Leigh Scott Guest
Lara Parker Guest
David Selby Guest
Janine Craig Go Go Dancer 1
Adelle Young Go Go Dancer 2
Dominika Van Santen Go Go Dancer 3 (as Dominica Van Santen)
Josephine McGrail Go Go Dancer 4
Victoria Jane Appleton Collins Canning Worker (uncredited)
Lasco Atkins Cannery Worker (uncredited)
Greg Bennett Chet the Taxidermist (uncredited)
Ashley Bernard Canning Company Employee (uncredited)
Kenneth W Caravan 18th Century Gentleman (uncredited)
Duncan Casey Policeman (uncredited)
James Cooper Dock Worker (uncredited)
Andrew Crayford Townsperson (uncredited)
Vincent Curson Smith Young Barnabas - aged 9 (uncredited)
Marco Flammer AngelBay Boy (uncredited)
Ian Floodgate Collins Canning Worker (uncredited)
Javier Fontana Fisherman (uncredited)
Jake Francis Photographer (uncredited)
Shonn Gregory Worker (uncredited)
Daniel Harland Barnabas Collin's Carrier Person (uncredited)
Lee Nicholas Harris Fisherman (uncredited)
Frank Hellebrand Henchman (uncredited)
Chris Martin Hill Fireman (uncredited)
Luke Hope Paramedic (uncredited)
Tony Hunter Factory Worker (uncredited)
Josh Jefferies Pizzeria Customer (uncredited)
Jorge Leon Martinez Collinwood Worker (uncredited)
David Lyddon Workman (uncredited)
Ian Mann Dock Worker (uncredited)
Matthew David McCarthy 18th Century Gentleman (uncredited)
Thomas McDonell Young Barnabus Collins (uncredited)
Duncan Meadows Mob (uncredited)
Dale Mercer Slow Dancer (uncredited)
Alex Moore Fire Fighter (uncredited)
Stuart Mulcaster Townsperson (uncredited)
Benjayx Murphy Builder (uncredited)
Valery Nuttall Townsperson (uncredited)
Mayo Oliver Firefighter (uncredited)
Marcus Ramtohul Record Store Owner (uncredited)
Steve Saunders Fisherman (uncredited)
Phillip Taggart Cannary worker (uncredited)
Nick Thomas-Webster Timothy (uncredited)
Matt Tyzack Townsperson (uncredited)
Charlie Woodford 18th Century Gentleman (uncredited)
No comments.
All informations are coming from http://www.imdb.com
This page has been seen 5370 times.