DEADLY SIBLING RIVALRY (2011)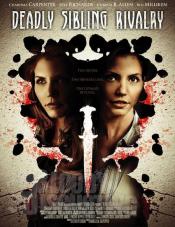 Identical twins Janna and Callie have always had a sibling rivalry competing for their father's love. After a horrific climbing accident kills their father, the twins grow further apart and carry out their lives in the wake of the tragedy. Janna gets married and has a daughter while Callie floats from one job to the next, getting tangled in illegal dealings. After a near fatal crash puts Janna into a coma, Callie secretly steals her sister's identity in an attempt to start over with a new life and keep her sister out of her way. Callie stops at nothing to seek revenge on a sister that has always had the seemingly better life.
Original Title : DEADLY SIBLING RIVALRY
Director(s) :
Hanelle M Culpepper
Writer(s) : Johnson Chan (story), Steven Palmer Peterson (screenplay)
Genre(s) : Mystery | Thriller
Year : 2011
Country : USA
Langage : English
Coulor : Color
US Release : 2011-08-15
Aka(s) :
(original title) - Deadly Sibling Rivalry
Spain - Gemelas y rivales
France - Face à ma soeur jumelle
Italy - Il doppio volto della paura
Actors :
 
Charisma Carpenter Janna /Callie
Christa B Allen Fiona Chalmers
Ben Milliken Kayden
KC Clyde Dr Eduardo Ortiz
A Russell Andrews Detective Park (as Russell Andrews)
Kyle Richards Tricia
Hart Turner Officer Cooper
Brendan Michael Coughlin Blue Eyed Waiter (as Brendan Coughlin)
Justin Gaston Patrol Officer
Erica Aulds Young Janna /Callie
Con Schell Henry Chalmers
Siri Baruc Nurse Gretchen
Lee Nestor Nurse Practitioner Catherine Blake
No comments.
All informations are coming from http://www.imdb.com
This page has been seen 721 times.