Filmography from : Don C Harvey
Actor :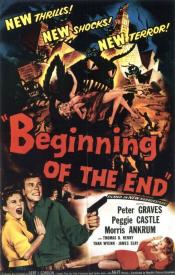 Le Début de la fin
,
Bert I Gordon
, 1957
Reporter Audrey Ames is driving along a highway in Illinois when she is stopped by the military. She then finds out that a small town was destroyed and everyone has seemingly disappeared. She then goes to a lab run by the Department of Agriculture. While she is there she meets the lab's director, Dr. Ed Wainwright. Ed then tells her that strange things have been happening ever since he discovered that a bunch of grasshoppers managed to get into...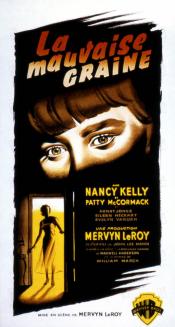 La mauvaise graine
,
Mervyn LeRoy
, 1956
Christine Penmark seems to have it all: a lovely home, a loving husband and the most "perfect" daughter in the world. But since childhood, Christine has suffered from the most terrible recurring nightmare. And her "perfect" daughter's accomplishments include lying, theft and possibly much, much worse. Only Christine knows the truth about her daughter and only Christine's father knows the truth about her nightmare....
Le tueur au cerveau atomique
,
Edward L Cahn
, 1955
Several years earlier gangster Frank Buchanan was deported to his native Italy through the efforts of law enforcement authorities and rival gangsters who inform on him. While in Europe he meets scientist Wilhelm Steigg, who has perfected a method of reanimating dead people and controlling their behavior with oral commands. Buchanan underwrites Steigg's experiments and uses his technology to wreak revenge on his enemies. Unfortunately radioactive...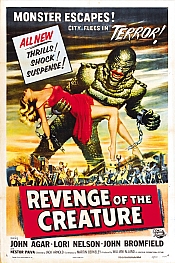 La Revanche de la créature
,
Jack Arnold
, 1955
Scientists re-discover Creature! Creature discovers lust! The "Creature From The Black Lagoon" is back and this time he's shipped to Marineland in (north) Florida for study. While in the aquarium he spies the love of his life. Naturally, the creature escapes in pursuit of beauty, down the St. Johns River, all the way to Jacksonville where he kidnaps his love from a downtown waterfront hotspot (dig the neon skyline in the background). ...