Filmography from : Don Campbell
Actor :

XII
,
Michael A Nickles
, 2008
"You have been summoned..." Claire Norris, a young waitress in a small-town Arizona diner, sat on a jury along with eleven others and listened to the evidence against a man accused of a crime against a minor. After days of difficult deliberation, the man - Leonard Karisson, Jr. - was found guilty. In prison, the "unspoken rule" regarding such crimes was enforced - Karisson was beaten by the other prisoners to within an inch of his life, his...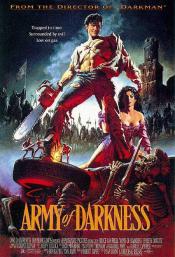 L'armée des ténèbres - Evil Dead III
,
Sam Raimi
, 1992
...
Stryker's War
,
Josh Becker
, 1985
Vietnam, 1969. War is Hell. For Marine Sergeant Jack Stryker (Brian Schulz), however, Hell is just the beginning. Trapped outside a Viet Cong village, Stryker takes two bullets to the leg. Sent home from the war, he discovers his ex-girlfriend (Cheryl Hausen) has been kidnapped by a religious cult with a vicious Manson-like leader (played by THE EVIL DEAD and SPIDER-MAN trilogy director, Sam Raimi). Stryker teams up with his marine buddies...
Mars Needs Women
,
Larry Buchanan
, 1968
Tommy Kirk leads his fellow Martians to Earth on an interplanetary quest for females. Kirk proves that Martians have impeccable taste when one of his first conquests turns out to be sexy scientist Yvonne Craig. ...