Filmography from : Doug Bradley
Actor :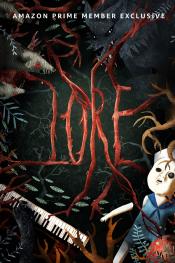 Mythes et croyances
,
Christoph Schrewe
(3 episodes, 2018),
Alice Troughton
(3 episodes, 2018),
Darnell Martin
(2 episodes, 2017),
Thomas J Wright
(2 episodes, 2017),
Nick Copus
(1 episode, 2017),
Michael E Satrazemis
(1 episode, 2017), 2017
From the executive producer of The Walking Dead and the executive producer of The X-Files, this anthology series brings to life Aaron Mahnke's "Lore" podcast and uncovers the real-life events that spawned our darkest nightmares. Blending dramatic scenes, animation, archive and narration, Lore reveals how our horror legends - such as vampires, werewolves and body snatchers - are rooted in truth. ...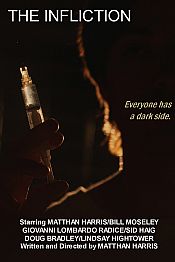 The Infliction
,
Matthan Harris
, 2012
David O'Hara is a troubled med school student who kidnaps, rapes and murders women. He impregnates one of his victims, Melissa Daniels, in an attempt to replace the family that he lost as a young boy. However, the police rescue Melissa from David's warehouse, and David goes on a murderous rampage to get his family back....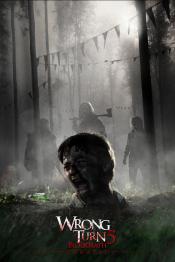 Détour mortel 5
,
Declan O'Brien
, 2012
In the next chilling chapter of Wrong Turn, a small West Virginia town is hosting the legendary Mountain Man Festival on Halloween, where throngs of costumed partygoers gather for a wild night of music and mischief. But an inbred family of hillbilly cannibals kill the fun when they trick and treat themselves to a group of visiting college students who are dying for a good time ... ...

Lucifer's Unholy Desire
,
Cody Knotts
, 2012
A young woman is possessed by a demonic succubus, who causes the death and destruction of the people around her through their deepest and darkest desires. An exorcist is then called in to try to bring an end to the mayhem and save the girl from evil's grasp before the demon can lead everyone around her to hell....
The Reverend
,
Neil Jones
, 2011
Fresh from seminary school a new Reverend embarks on his first parish. A small, low maintenance chapel based in the quiet idyllic setting of a quiet country village. While on the surface the village seems to be a peaceful parish, with perfect residents, soon it becomes apparent that something more sinister lurks beneath the façade of a local businessman. On a wet, cold night a mysterious girl visits the Reverend at the chapel. Cold and upset...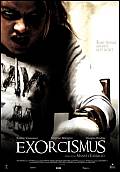 L'Exorcisme
,
Manuel Carballo
, 2010
Fifteen-year-old Emma Hawkins is like any other teenage girl; she thinks that her parents don't understand her. She longs for independence and a life free of family ties and responsibilities, and she is prepared to do anything to achieve it. But one day she will be forced to face up to the consequences of her actions. Life seems to be carrying on as normal until one day Emma starts experiencing frightening fits. Her parents are convinced...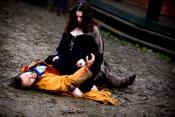 Umbrage
,
Drew Cullingham
, 2009
A hundred years later an ancient obsidian mirror, long unearthed from the Mesopotamian desert, is liberated from an American collector's vault and illegally transported to Europe. Jacob, an unscrupulous antiques dealer, moves to a remote farmhouse with his pregnant young wife, Lauren, and his difficult ward, Rachel. His goals are clear: to pass this near-priceless mirror to the highest bidder, and to prevent these two women from ripping...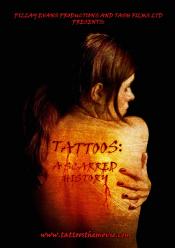 Tattoos: A Scarred History
,
SJ Evans
, 2009
From people with tattoos on every body part, to digital tattoos powered by your blood, this controversial feature documentary will take you on a visually stunning, and to some, disturbing journey into the world of tattoos....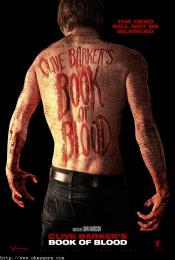 Livre de sang
,
John Harrison
, 2009
The story centers on a paranormal expert who, while investigating a gruesome slaying, finds a house that is at the intersection of "highways" transporting souls to the afterlife. Based on the terrifying story penned by Clive Barker in the "Books of Blood" collection, a psychic researcher, Mary Florescu, employs Medium Simon McNeal to investigate a haunted house. McNeal, at first, begins to fake his visions, but then real ghosts present...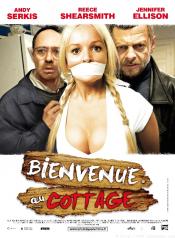 Bienvenue au cottage
,
Paul Andrew Williams
, 2008
When David and his clumsy brother Peter kidnap the daughter of a powerful gangster, they bring Tracey to a cottage in the countryside in the trunk of their car. Peter calls Tracey's father and asks a ransom of one hundred thousand pound to be delivered to her step-brother Andrew. When the bag is delivered to the moron Andrew, he does not check the content and is followed to the remote location by two Chinese hit-men hired by Tracey's father....
Pumpkinhead - Les condamnés
,
Jake West
, 2006
...
Hellraiser: Deader
,
Rick Bota
, 2005
...
Hellraiser: Hellworld
,
Rick Bota
, 2005
...
The Prophecy: Uprising
,
Joel Soisson
, 2005
...
Hellraiser: Hellseeker
,
Rick Bota
, 2002
...
Red Lines
,
Frazer Lee
, 2002
...

Hellraiser 5: Inferno
,
Scott Derrickson
, 2000
...
On Edge
,
Frazer Lee
, 1999
...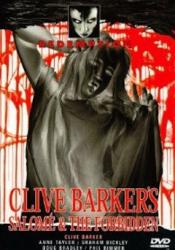 Clive Barker's Salomé & The Forbidden
,
Clive Barker
, 1998
...

Hellraiser: Bloodline
,
Kevin Yagher
(as Alan Smithee),
Alan Smithee
(really Kevin Yagher), 1996
...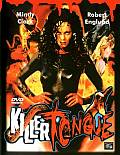 La langue tueuse
,
Alberto Sciamma
, 1996
...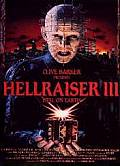 Hellraiser 3
,
Anthony Hickox
, 1992
Pinhead is stuck in a block after the Big Confrontation in "Hellbound," The block containing Pinhead and the puzzle cube is bought by a young playboy as sculpture. Pinhead busies himself escaping by getting the playboy to lure victims to his presence so he can use their blood. Once free, he seeks to destroy the puzzle cube so he need never return to Hell, but a female reporter is investigating the grisly murders and stands in his way....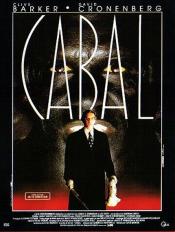 Cabal
,
Clive Barker
, 1990
A community of mutant outcasts of varying types and abilities attempts to escape the attention of a psychotic serial killer and redneck vigilantes with the help of a brooding young man who discovers them. Based on the novel "Cabal" by Clive Barker. ...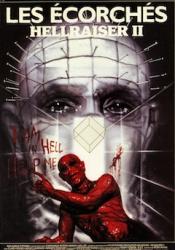 Hellraiser 2: Les Écorchés
,
Tony Randel
, 1988
Kirsty is brought to an institution after the death of her family, where the occult-obsessive head resurrects Julia and unleashes the Cenobites once again....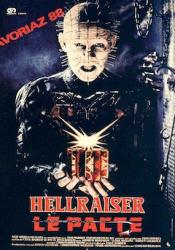 Le Pacte
,
Clive Barker
, 1987
An unfaithful wife encounters the zombie of her dead lover, who's being chased by demons after he escaped from their sado-masochistic Hell....