Filmography from : Dudley Nichols
Writer :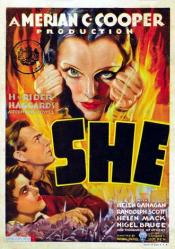 She
,
Lansing C Holden
,
Irving Pichel
, 1935
Leo Vincey, told by his dying uncle of a lost land visited 500 years ago by his ancestor, heads out with family friend Horace Holly to try to discover the land and its secret of immortality, said to be contained within a mystic fire. Picking up Tanya, a guide's daughter, in the frozen Russian arctic, they stumble upon Kor, revealed to be a hidden civilization ruled over by an immortal queen, called She, who believes Vincey is her long-lost lover...
The Black Camel
,
Hamilton MacFadden
(uncredited), 1931
Movie star Sheila Fayne is seeing wealthy Alan Jaynes while filming in Honolulu, Hawaii, but won't marry him without consulting famed psychic Tanaverro first. Tanaverro confronts her about the unsolved murder of fellow film star Denny Mayo three years earlier, and she decides to reject Jaynes' proposal. When Sheila is found shot to death in her beach-front pavilion, Charlie Chan of the Honolulu Police investigates....