DUNE

(2000)

INFO

| REVIEW(S) | PHOTOS | NEWS |

DVDS (2)

| VIDEOS

A three-part miniseries on politics, betrayal, lust, greed and the coming of a Messiah. Based on Frank Herbert's classic science fiction novel.




Original Title : DUNE

Genre(s) : [Adventure

Year : 2000US Release : 2000-12-03

Actors :

Series

William Hurt

 Duke Leto Atreides3 episodes, 2000

Alec Newman

 Muad'Dib / 3 episodes, 2000

Saskia Reeves

 Lady Jessica Atreides3 episodes, 2000

PH Moriarty

 Gurney Halleck3 episodes, 2000

Ian McNeice

 Baron Vladimir Harkonnen3 episodes, 2000

Matt Keeslar

 Feyd-Rautha Harkonnen3 episodes, 2000

László I Kish

 Glossu Rabban3 episodes, 2000

Giancarlo Giannini

 Padishah - Emperor Shaddam Corrino IV3 episodes, 2000

Julie Cox

 Princess Irulan Corrino3 episodes, 2000

Uwe Ochsenknecht

 Stilgar3 episodes, 2000

Zuzana Geislerová

 Reverend Mother Gaius Helen Mohiam3 episodes, 2000

Philip Lenkowsky

 Guild Agent3 episodes, 2000

Laura Burton

 Alia Atreides3 episodes, 2000

Pavel Vokoun

 Guard3 episodes, 2000

James Watson

 Duncan Idaho2 episodes, 2000

Miroslav Táborský

 Count Hasimir Fenring2 episodes, 2000

Barbora Kodetová

 Chani2 episodes, 2000

Jakob Schwarz

 Otheym2 episodes, 2000

Karel Dobrý

 Dr Pardot Kynes / 2 episodes, 2000

Pavel Cajzl

 Sardauker Captain2 episodes, 2000

Jan Vlasák

 Thufir Hawat1 episode, 2000

Robert Russell

 Dr Yueh1 episode, 2000

Jan Unger

 Piter Devries1 episode, 2000

Christopher Lee Brown

 Jamis1 episode, 2000

Jaroslava Siktancova

 Shadout Mapes1 episode, 2000

Drahomíra Fialková

 Mother Ramallo1 episode, 2000

Petra Spindlerová

 Young Mother Ramallo1 episode, 2000

Clotilde Le Grand

 Novititate1 episode, 2000

Elizabeth Sofranco

 Novititate1 episode, 2000

David Máj

 Guild Representative1 episode, 2000

Pavel Kríz

 Esmar Tusk1 episode, 2000

Jeff Caster

 Linger Bewt1 episode, 2000

David Fisher

 Assasin / 1 episode, 2000

Noel le Bon

 Turok1 episode, 2000

Dan Brown

 Watermaster1 episode, 2000

Mikulás Kren

 Fremen Leader1 episode, 2000

Oldrich Navrátil

 Naib #11 episode, 2000

Jirí Hanák

 Naib #21 episode, 2000

Matej Forman

 Puppeteer1 episode, 2000

Petr Forman

 Puppeteer1 episode, 2000

Brian Jaurequi

 Fremen Man #11 episode, 2000

Jan Cajzl

 Boy1 episode, 2000

Klára Issová

 Servant Girl1 episode, 2000

Rianne Kooiman

 Servant Waterseller1 episode, 2000

Mark Huntley

 Lieutentant1 episode, 2000

Teresza Semlerova

 Farrah1 episode, 2000

Anita Durst

 Lady in Waiting1 episode, 2000

Jan Nemejovský

 Imperial General1 episode, 2000

Gregory Linington

 Fedaykin #1unknown episodes

Daniel Rous

 Fedaykin #2unknown episodes

Petr Vacek

 Fremen Man #2unknown episodes

Ivo Novák

 Fremen Man #3unknown episodes

Petra Lustigová

 Fremen Womanunknown episodes

Rich Gold

 Fatherunknown episodes

Robert Jasków

 Soldier #1unknown episodes

Pavel Bezdek

 Soldier #2unknown episodes

Martin Hub

 Soldier #3unknown episodes

Jeff Tyler

 Foremanunknown episodes

Petr Vobecky

 Bodyguardunknown episodes

Joel Sugerman

 Spice Spa Attendantunknown episodes

David Forrester

 Noble #1unknown episodes

Zdenek Maryska

 Noble #2unknown episodes

David O'Kelly

 Imperial Soldierunknown episodes

Robert Lahoda

 Officerunknown episodes

Steve Fisher

 Lieutenantunknown episodes

Pavel Vokolin

 Guardunknown episodes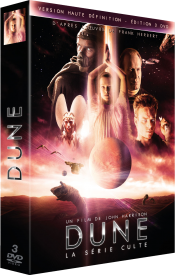 - YOUR COMMENTS -
Be careful, every litigious comments will be deleted.

No comments.
Leave your comment
All informations are coming from http://www.imdb.com
This page has been seen 5546 times.