Filmography from : Ed Jackson
Director :
The Cat's Out
,
Wilfred Jackson
(uncredited), 1931
The family cat, out for the night, stalks and catches a bird singing atop the weathervane, but it flies off, pulling the cat and weathervane down and knocking the cat out. The cat has a vision of giant birds, lacking the tailfeathers he pulled out, tormenting him, and soon, everything in the autumn landscape is animated and scary....
Actor :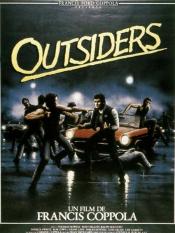 Outsiders
,
Francis Ford Coppola
(as Francis Coppola), 1983
Tulsa, Oklahoma, 1965. Fourteen-year-old Ponyboy Curtis is the youngest of three orphaned brothers who live on the north side of town, the "wrong side" of the tracks. Sensitive Ponyboy used to have a good relationship with his oldest brother Darrel, but since Darrel became the household caregiver, he is always on Ponyboy's case. Caught in the middle is third brother Sodapop, who dropped out of school to work full time. They all belong to The...