ENTER NOWHERE (2011)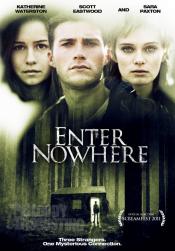 Three strangers arrive one by one at a cabin in the middle of the woods. Searching for a way out while fighting the elements and hunger, the trio realizes they have been brought together intentionally. Their connection to one another may be their only chance to get out of the woods alive.
Original Title : ENTER NOWHERE
Director(s) :
Jack Heller
Writer(s) : Shawn Christensen (written by), Jason Dolan (written by)
Genre(s) : Mystery | Thriller
Length : 90 min
Year : 2011
Country : USA
Langage : English
Coulor : Color
Sound : Dolby Digital
US Release : 2012-04-03
Aka(s) :
Greece (DVD title) - To aggigma tou tromou
Actors :
 
Katherine Waterston Samantha
Scott Eastwood Tom
Sara Paxton Jody
Shaun Sipos Hans
Christopher Denham Kevin
Jesse Perez Attendant (as Jesse J Perez)
Leigh Lezark Young Woman
Vic Finalborgo Priest
No comments.
All informations are coming from http://www.imdb.com
This page has been seen 718 times.