ESCAPEE (2011)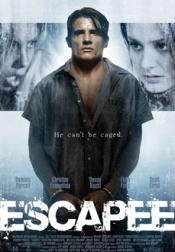 While on a class observation trip at a local mental hospital, young psychology major Abby Jones has a chilling encounter with high-risk patient Harmon Porter. She returns home for an evening of normal study with her two roommates unaware of the darkness she's awakened within him. Later that evening a storm moves in while Harmon escapes, leaving a trail of death as he makes his way toward an unsuspecting Abby.
Meanwhile Abby and her roommate, Lynn, receive a visit from Carter Thomas, the neighbor cop across the street, warning them about a local peeper lurking in the area. He reassures them that he is close by and as long as they keep their curtains closed and doors locked, they are safe. Little do they know not even Carter can protect them from the rage unleashed by Harmon's new found obsession, Abby.
Secure in Carter's cocoon of safety, the girls continue studying into the wee hours of the morning, seemingly sheltered from the horrific events happening around them. As the girls sleep, the storm takes a turn for the worse, darkening the neighborhood and trapping them in Harmon's web of terror.
Original Title : ESCAPEE
Director(s) :
Campion Murphy
Writer(s) : Campion Murphy (written by)
Genre(s) : Horror | Thriller
Length : 98 min
Year : 2011
Country : USA
Langage : English
Coulor : Color
Ratio : 178 : 1
US Release : 2011-09-02
Aka(s) :
Brazil (alternative title) - Alta Pressão
Brazil - Perseguição Obsessiva
Germany - Escapee - Nichts kann ihn stoppen
France (DVD title) - Escape
Greece (DVD title) - O drapetis
Actors :
Cast 
Dominic Purcell Jaxon
Christine Evangelista Abby Jones
Melissa Ordway Renee Sanders
Danny Nucci Professor Jeremy Davis
Scott Elrod Officer Carter Thomas (as Scott Michael Elrod)
Kadeem Hardison Detective Pars
Carly Chaikin Lynn Peterson
Justin Gaston Kyle Roberston
David Jensen Police Chief Gaines
Faith Ford Detective Alison Jensen
Christopher Shand Chet Hall
Stanton Barrett Jerome Cooper
Jullian Dulce Vida Fred Ramos
Joel Gourdin Officer Jason Tyler
Greg D Johnson Jimmy Willis
Tim J Smith Guard #1 (as Tim Smith)
Jody Looney Mack
Sylvia Davis Warrant Officer
Felice Lavergne Julie Peterson
John Bernecker Ray
Julian Anderson Jerry
Joey Baxter Deputy #2 (uncredited)
Brad Duffy FBI Agent (uncredited)
Emilia Graves Attractive College Student (uncredited)
Jessica 'Ameelah' McDaniel Crime Scene Tech (uncredited)
Lloyd Pitts Weatherman Dan (voice) (uncredited)
No comments.
All informations are coming from http://www.imdb.com
This page has been seen 2580 times.