FLESH+BLOOD (1985)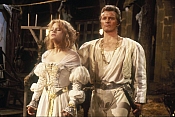 In 1501, in the Western Europe, in a period when the black plague is jeopardizing the populations, an army of mercenary peasants leaded by Martin fights side-by-side with the noble Arnolfini to retrieve his castle, with the promise of a huge reward. However, the band is betrayed by Arnolfini, and decides to pay him back, assaulting and stealing a caravan under the command of Arnolfini and his son and student, Steven. In one of the wagon is traveling the fiancée of Steven, Agnes, who is accidentally kidnapped and later raped by the group. Agnes becomes Martin's mate, and the mercenaries decide to invade a castle, without knowing that the army of Arnolfini is chasing them.
Original Title : FLESH+BLOOD
Director(s) :
Paul Verhoeven
Writer(s) : Gerard Soeteman (screenplay), Gerard Soeteman (story), Paul Verhoeven (screenplay)
Genre(s) : Adventure | Drama
Length : 126 min
Year : 1985
Country : Spain | USA | Netherlands
Langage : English | Latin
Coulor : Color
Ratio : 235 : 1
Sound : Dolby
French Release : 1985-10-02
US Release : 1985-08-30
Aka(s) :
(original title) - Flesh+Blood
- The Rose and the Sword
Bulgaria (Bulgarian title) - Плът и кръв
Brazil - Conquista Sangrenta
Czechoslovakia - Krev a maso
Denmark - Den vilde kriger
Spain - Los señores del acero
Finland (Swedish title) - Kött och blod
Finland (DVD title) - Lihaa + verta
Finland - Lihaa ja verta
Finland (TV title) - Tuliset miekat
France - La chair et le sang
Greece (transliterated ISO-LATIN-1 title) - Sarka kai aima
Hungary - Hús és vér
Hungary (DVD box title) - Hús+vér
Italy - L'amore e il sangue
Poland - Cialo i krew
Poland (informal title) - Róza i miecz
Portugal - Amor e Sangue
Serbia - Krv i meso
Sweden - Den vilde krigaren
Sweden - Kött och blod
Soviet Union (Russian title) - Плоть + кровь
USA (alternative spelling) - Flesh & Blood
West Germany - Fleisch & Blut
Yugoslavia (Croatian title) - Krv i meso
Actors :
Cast 
Rutger Hauer Martin
Jennifer Jason Leigh Agnes
Tom Burlinson Steven
Jack Thompson Hawkwood
Fernando Hilbeck Arnolfini (as Fernando Hillbeck)
Susan Tyrrell Celine
Ronald Lacey Cardinal
Brion James Karsthans
John Dennis Johnston Summer
Simón Andreu Miel
Bruno Kirby Orbec
Kitty Courbois Anna
Marina Saura Polly
Hans Veerman Father George
Jake Wood Little John
Héctor Alterio Niccolo
Blanca Marsillach Clara
Nancy Cartwright Kathleen
Jorge Bosso Sterz
Mario De Barros Herman
Ida Bons Roly Poly
Jaime Segura Lord of the Castle
Bettina Brenner Lady of the Castle
Siobhan Hayes Child of the Castle
Susan Beresford Sturdy Woman
Mònica Lucchetti Tongueless Girl
Anne Lockhart Wife (uncredited)
No comments.
All informations are coming from http://www.imdb.com
This page has been seen 2048 times.