Filmography from : Fumio Watanabe
Actor :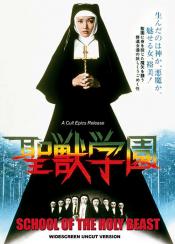 Le Couvent de la bête sacrée
,
Norifumi Suzuki
(as Noribumi Suzuki), 1974
After the mysterious death of her mother, a young woman chooses to enter a convent to find out what happened. As soon as the door closes to the nunnery, the nuns start torturing the woman. Also, the woman has to deal with a God-hating archbishop and a lesbian mother superior....
Elle s'appelait Scorpion
,
Shun'ya Itô
, 1972
Matsu, known to the prisoners as Scorpian, is locked away in the bowels of the prison as revenge for disrupting the smooth operation of the prison and for her disfiguring attack on the warden. Granted a one day reprieve due to the visit of a dignitary, she takes advantage and attacks the warden again. This leads to more brutal punishment and humiliation. But the punishment gives her an oppurtunity to escape along with six other female prisoners....
Baby Cart: le sabre de la vengeance
,
Kenji Misumi
, 1972
In this first film of the Lone Wolf and Cub series, adapted from the manga by Kazuo Koike, we are told the story of the Lone Wolf and Cub's origin. Ogami Itto, the official Shogunate executioner, has been framed for disloyalty to the Shogunate by the Yagyu clan, against whom he now is waging a one-man war, along with his infant son, Daigoro....