Filmography from : Giovanni Di Benedetto
Actor :
Macchie solari
,
Armando Crispino
, 1975
...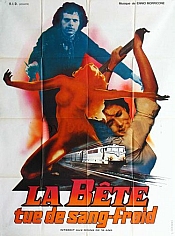 L'ultimo treno della notte
,
Aldo Lado
, 1975
Margaret and Lisa, high school friends, take the night train from Germany to Verona to spend Christmas with Lisa's family. They flirt mildly with male passengers, including two randy delinquents in their 20s, Blackie and Curly. The four of them end up in a first-class cabin with a well-dressed woman of about 30 who has pornographic photographs in her valise. Egged on by the woman, the thugs and a male visitor to the cabin menace and then assault...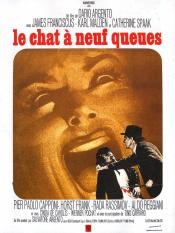 Il gatto a nove code
,
Dario Argento
, 1971
A newspaper reporter and a retired, blind journalist try to solve a series of killings connected to a pharmaceutical company's experimental, top-secret research projects and in so doing, both become targets of the killer. ...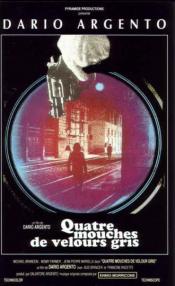 4 mosche di velluto grigio
,
Dario Argento
, 1971
A musician is stalked by an unknown killer who's blackmailing him for an accidential killing of another stalker. But is everything what it appears to be?...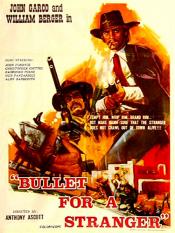 Gli fumavano le Colt... lo chiamavano Camposanto
,
Giuliano Carnimeo
(as Anthony Ascott), 1971
John and George McIntire are a couple of naive brothers who travel to a lawless western town to see their father. The bumbling siblings get themselves into big trouble after they beat up a member of a gang of extortionists. Fortunately, a mysterious roving gunfighter decides to help the guys out of their jam....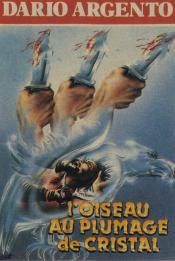 L'uccello dalle piume di cristallo
,
Dario Argento
, 1970
In Italy, the American writer Sam Dalmas witnesses an attempt of murder of the owner of an art gallery, Monica Ranieri, a couple of days before returning home. Inspector Morosini, who is in charge of investigating the three previous murderers of the serial-killer, asks for help to Dalmas and takes his passport. Dalmas decides to stay with his girlfriend Julia and to help the police in the investigation. The killer threatens Dalmas and Julia by...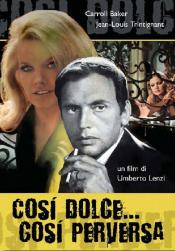 Così dolce... così perversa
,
Umberto Lenzi
, 1969
Umberto Lenzi Giallo's range in quality from sublime to trash, but his earlier genre entries tended to be the best; and So Sweet...So Perverse is certainly at the higher end of Lenzi's Giallo achievements. One of the trademarks of Giallo is a high dosage of sex scenes; but despite the fact that this film has the word 'perverse' in it's title; So Sweet...So Perverse is actually not all that perverse at all, especially not by Giallo standards....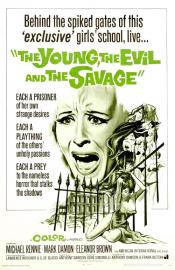 Nude... si muore
,
Antonio Margheriti
(as Anthony Dawson), 1968
Behind the spiked gates of this "exclusive" girls' school, live... "THE YOUNG, THE EVIL AND THE SAVAGE."...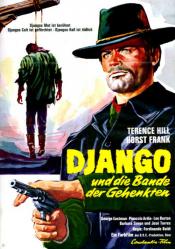 Preparati la bara!
,
Ferdinando Baldi
, 1968
A mysterious gunfighter named Django is employed by a local crooked political boss as a hangman to execute innocent locals framed by the boss, who wants their land. What the boss doesn't know is that Django isn't hanging the men at all, just making it look like he is, and using the men he saves from the gallows to build up his own "gang" in order to take revenge on the boss, who, with Django's former best friend, caused the death of his wife...
La ragazza che sapeva troppo
,
Mario Bava
, 1963
Nora is a young tourist traveling through Rome which takes a sudden turn when she witnesses a murder by a serial killer that the police have sought for years for the so-called Alphabet Killings, and Nora soon finds herself in way-over-her-head trouble when the police want her cooperation to catch the killer while the mystery killer soon targets her for his next victim....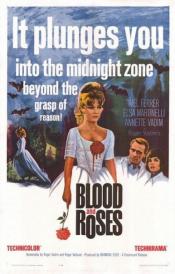 Et mourir de plaisir
,
Roger Vadim
, 1960
Young Carmilla is jealous of her friend's engagement, and her obsession leads her to the tomb of a female vampire. The vampire possesses her and leads her to kill and terrorise the inhabitants of the estate. But is it all in her mind, or is she really under the control of an ancient vampire ancestor?...