HAUNTED (0)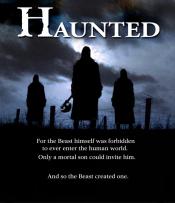 The film tells the chilling story of Nick Di Santo , who is tormented by his ability to touch someone and see exactly how they will die. On his 23rd birthday Nick is summoned by his mother (Leslie-Anne Down) to the asylum where she has been institutionalized since his childhood. Hoping that her request to see him is a sign of improvement, Nick is stunned by her revelation that the father he thought was dead is really alive. He is alive and may know the origin of Nick's terrible gift. Nick sets out to find his father with his best friend Ryan (Anthony Rey Perez) and girlfriend Eve (Alex McKenna). The trio are soon frightened and alarmed as every road they take on the journey leads them back to the same abandoned mansion -- a house that only existed in Nick's childhood imagination or so he thought. A house in a town that no map connects. Finally succumbing to the will of the house, Nick becomes embroiled in a battle with a dark figure (Tobin Bell). What started as a simple road trip soon turns into a terror-filled journey, full of horrifying twists and brutal surprise.
Original Title : HAUNTED
Director(s) :
Victor Salva
Writer(s) : Charles Agron, Victor Salva
Country : USA
Langage : English
Coulor : Color
Actors :
Luke Kleintank - Nick Di Santo
Alex McKenna - Eve
Anthony Rey Perez - Ryan
Zack Ward - Chris McCulluch
Lacey Anzelc - Lillith
Ethan S. Smith - Sam
Lesley-Anne Down
Tobin Bell - Seth
Charles Agron - Lucky
Tonya Carter - Asylum Nurse
Brandon Smith - Asylum Orderly
Daniel Ross Owens - Brian Maker
Max Gail
Patricia Belcher - Lee Knox
Tony Sanford - Ben
Amye Gousset - Hospital Nurse
Tim J. Smith - Axeman #1
Casey Hendershot - Axeman #2
Nick Epper - Axeman #3
Danny Epper - Shadow Army
Greg Sproles - Shado Army
Cameron Spann - Ronny

No comments.
All informations are coming from http://www.imdb.com
This page has been seen 898 times.