Filmography from : Hosei Komatsu
Actor :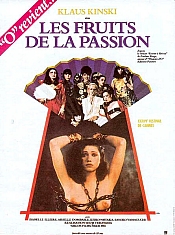 Les fruits de la passion
,
Shûji Terayama
, 1981
The story takes place in Shanghai. A girl loves a rich and much older man (played by Kinski). She is willing to do everything he wants to show her love, but he is playing a sick game with her. As part of this game he sends her to a Chinese brothel. A poor young boy sees her and falls in love with her. To get the money needed to sleep with her, he joins "the revolution". Additionally the movie shows the fate of some of the other prostitutes....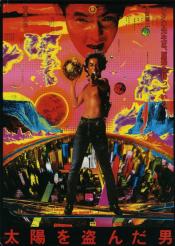 Taiyô wo nusunda otoko
,
Kazuhiko Hasegawa
, 1979
A misfit high-school science teacher decides to build his own atomic bomb. He steals isotopes from a nuclear reactor and manages to create two warheads, but at the same time is present at a botched school-bus hijacking and is publicly coronated as a hero. Nevertheless, he uses the bombs to extort the police, first by demanding that baseball games be shown without commercial interruptions and then by having the Rolling Stones play in Japan...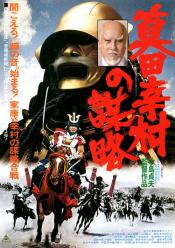 Sanada Yukimura no bouryaku
,
Sadao Nakajima
, 1979
...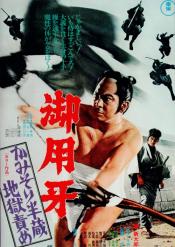 Goyôkiba: Kamisori Hanzô jigoku zeme
,
Yasuzô Masumura
, 1973
Against the backdrop of the Edo treasury devaluing currency and driving many into poverty, Hanzo Itami enforces the law without regard to status. He shows inadequate respect to the treasurer, who wants him dead. He finds a young woman dead following an abortion, and he enters a temple without permission looking for evidence. He tortures and then sexually assaults the temple's priestess to get information. He's then assigned to protect the mint...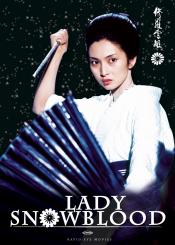 Shurayukihime
,
Toshiya Fujita
, 1973
Yuki's family is nearly wiped out before she is born due to the machinations of a band of criminals. These criminals kidnap and brutalize her mother but leave her alive. Later her mother ends up in prison with only revenge to keep her alive. She creates an instrument for this revenge by purposefully getting pregnant. Though she dies in childbirth, she makes sure that the child will be raised as an assassin to kill the criminals who destroyed her...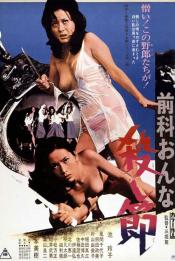 Zenka onna: Koroshi-bushi
,
Atsushi Mihori
, 1973
Reiko Ike stars as the daughter of a man who has been pushed into drug dealing by the local Yakuza mob. Having outlived his usefulness to the gang he is murdered and Reiko is gang raped, leading her to attempt a knife attack on the Yakuza boss (Ryoji Hayama) at a swank nightclub. Failing to kill him she ends up in prison, where she befriends a crew of other malcontents (including Yumiko Katayama and Chiyoko Kazama) and meets the Yakuza boss's...
Joshû sasori: Dai-41 zakkyo-bô
,
Shun'ya Itô
, 1972
Matsu, known to the prisoners as Scorpian, is locked away in the bowels of the prison as revenge for disrupting the smooth operation of the prison and for her disfiguring attack on the warden. Granted a one day reprieve due to the visit of a dignitary, she takes advantage and attacks the warden again. This leads to more brutal punishment and humiliation. But the punishment gives her an oppurtunity to escape along with six other female prisoners....
Kozure ôkami
,
Buichi Saitô
(9 episodes, 1976),
Minoru Matsushima
(8 episodes, 1973-1976),
Hitoshi Obuchi
(3 episodes, 1976),
Toshio Masuda
(2 episodes, 1976),
Teruo Ishii
(1 episode, 1973),
Makihito Takai
(1 episode, 1974),
Tokuzô Tanaka
(1 episode, 1976),
Hitoshi Ôsu
(1 episode, 1976), 3
...