Filmography from : Howard S Miller
Actor :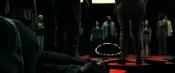 Circle
,
Aaron Hann
,
Mario Miscione
, 2015
In a massive, mysterious chamber, fifty strangers awaken to find themselves trapped with no memory of how they got there. Organized in an inward-facing circle and unable to move, they quickly learn that every two minutes one of them must die… executed by a strange device in the center of the room. At first the attacks seem random, but soon the strangers realize that they, as a group, have the power to decide who will be the next to be killed....
The Thirteenth Floor
,
Josef Rusnak
, 1999
...
Scanner Cop
,
Pierre David
, 1994
...
Transylvania Twist
,
Jim Wynorski
, 1989
...