I, FRANKENSTEIN (2014)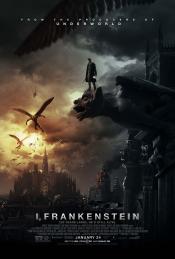 Set in a dystopic present where vigilant gargoyles and ferocious demons rage in a battle for ultimate power, Victor Frankenstein's creation Adam (Aaron Eckhart) finds himself caught in the middle as both sides race to discover the secret to his immortality.
Original Title : I, FRANKENSTEIN
Director(s) :
Stuart Beattie
Writer(s) : Stuart Beattie (screenplay),  , Kevin Grevioux (screen story) and, Stuart Beattie (screen story),  , Kevin Grevioux (Darkstorm Studios graphic novel),  , Mary Shelley (characters)
Genre(s) : Action | Fantasy | Sci-Fi
Year : 2014
Country : USA | Australia
Langage : English
Coulor : Color
Ratio : 235 : 1
Sound : Dolby Digital| Datasat| SDDS| Dolby Atmos
US Release : 2014-01-24
Aka(s) :
Argentina - Yo, Frankenstein
Bulgaria (Bulgarian title) - Аз, Франкенщайн
Brazil - Frankenstein: Entre Anjos e Demônios
Estonia - Mina, Frankenstein
Hungary - Én, Frankenstein
Lithuania - As Frankensteinas
Portugal - Eu, Frankenstein
Serbia - Ja, Frankenštajn
Actors :
 
Yvonne Strahovski Terra
Bill Nighy Naberius
Aaron Eckhart Adam
Jai Courtney Gideon
Caitlin Stasey Keziah
Miranda Otto Leonore
Kevin Grevioux Dekar
Aden Young Dr Frankenstein
Deniz Akdeniz Barachel
Socratis Otto Zuriel
Virginie Le Brun Elizabeth Frankenstein
Chris Pang Levi
Angela Kennedy Demon
Samantha Reed Eve
Goran D Kleut Rekem
Mahesh Jadu Ophir
Steve Mouzakis Helek
Diezel Ramos
Amanda Dyar Runner
Paul Allica Bar Tender
Luke Wright
Sherrydayne Taela Kissing Couple
Minel Louis Zazia
Michael Pearce Kissing Couple
Tirhas Beyene Pyrad
No comments.
All informations are coming from http://www.imdb.com
This page has been seen 1576 times.