IN THEIR SKIN (2012)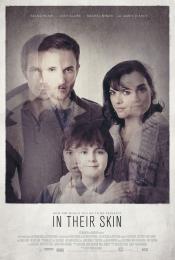 "After the accidental death of their six-year-old daughter, the Hughes family escape their busy upscale suburban life and head to their isolated cottage for some quality time. An evening with their friendly neighbors is suddenly interrupted when one man's obsession with perfection escalates into a violent struggle, forcing the families to go beyond what they ever thought they were capable of in order to survive.
Original Title : IN THEIR SKIN
Director(s) :
Jeremy Power Regimbal
Writer(s) : Joshua Close (storyscreenplay by) (as Josh Close), Justin Tyler Close (story), Jeremy Power Regimbal (story)
Genre(s) : Horror | Thriller
Length : 97 min
Year : 2012
Country : Canada
Langage : English
Coulor : Color
Sound : Dolby Digital
French Release : 2012-11-19
US Release : 2012-11-09
Aka(s) :
Bulgaria (Bulgarian title) - В тяхната кожа
Brazil - Em Sua Pele
Greece (DVD title) - Kleidoses?
Serbia - U njihovoj koži
World-wide (festival title) (English title) - Replicas
Actors :
 
Selma Blair Mary
Joshua Close Mark (as Josh Close)
James D'Arcy Bobby
Rachel Miner Jane
Quinn Lord Brendon
Alex Ferris Jared
Matt Bellefleur Toby
Terence Kelly Attendant
Leanne Adachi Medic
Brett Delaney Man In Headlights
Debbe Hirata Therapist
Agam Darshi Nurse
Allie Bertram Bridget
No comments.
All informations are coming from http://www.imdb.com
This page has been seen 2275 times.