INFO
Dead Crossroads needs your support !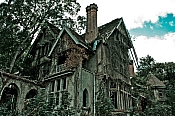 "DEAD CROSSROADS"
, a mini-serie exploring various haunted places in France and made ​​by our dear friend
Fabien Delage
(from Rue Morgue), needs you to fund the end of this great adventure.
Here's a small presentation of the project, we, Oh My Gore, decided to sponsor, along with some photos that - we hope - will whet your appetite !
"
"DEAD CROSSROADS"
is a new and inovative ghost show, a sinister travelogue that will take you to places few would suspect exist. Armed with video cameras and hiking bags,
Fabien Delage
– freelance artist and contributor to Rue Morgue Magazine – and French survival guide
Julien Mazzitelli
explore French haunted ruins, some of the grandest, oddest and unluckiest buildings in the country of France.
The two explorers investigate architecture of a morbid past by shooting and photographing ; spending one day and one terrifying night in the most haunted buildings in the country.
"DEAD CROSSROADS"
is the first film report on France ghost houses and lost treasures.
Playing with the codes of the documentary genre and the found footage aesthetics,
"DEAD CROSSROADS"
will feature ten 15 minutes scary episodes. At night, in these mansions built in the mid-nineteenth century, in these abandoned, remote and forgotten places, danger can come from anywhere... Stalkers, phantoms, destructive poltergeist manifestations, strange noises and creepy bugs invasions ; the camera of
"DEAD CROSSROADS"
captures the most unbelievable and unexplained phenomenas.
This new paranormal show documents what is left of French forbidden haunted houses with histories and wonderfull shots of the haunting ruins. Included are an orphanage, an asylium, a ghost town, castles, mansions, country houses, cabins and even an old under-earth military basement.
"DEAD CROSSROADS"
is a handsome and nerve-racking study of the most haunting and unforgetable mansions ever to have been built in France, with hauntingly beautiful frames and accompanied by frightening historical information. Real stories, real places, real fear."
To help fund and support this exciting initiative, please visit
KissKissBankBank website
. Your donations will be used for post production and DVD creation, and of course, will entitle you to various counterparties.
For further information :
-
www.deadcrossroads.com
-
www.facebook.com/deadcrossroads
Source : Oh My Gore !
No comments.