EVIL DEAD
INFO
The remake is "very dark and violent", says Jessica Lucas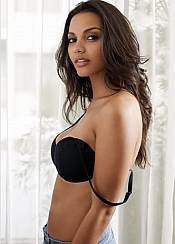 Jessica Lucas
has revealed that the upcoming
"EVIL DEAD"
will be dark and more violent than
Sam Raimi
's trilogy.
Speaking to Digital Spy, the actress said that the
Fede Alvarez
-directed horror is
"going to be crazy"
.
"It's very, very dark,"
she explained.
"I know the first one was a little bit more tongue-in-cheek, there was some humour in there. Unintentional, but still kind of funny. Ours is very dark and violent."
Asked if she was nervous about how the Evil Dead fanbase will receive the new version, Lucas said:
"A little bit, but we're trying to do something different.">/i>

"It's not so much a remake or a reboot as it is a continuation of the saga. We're not trying to recreate it."

"THE EVIL DEAD", also starring Jane Levy, Shiloh Fernandez and Lou Taylor Pucci, opens in cinemas next year and is produced by Sam Raimi and original star Bruce Campbell.
Synopsis : Five twenty-something friends become holed up in a remote cabin where they discover a Book Of The Dead and unwittingly summon up dormant demons living in the nearby woods, which possess the youngsters in succession until only one is left intact to fight for survival.
French Release : 2013-05-01 - US Release : 2013-04-05
Source : digitalspy.co.uk / actucine.com
No comments.