MALEFICENT
INFO
- Shooting, casting and first picture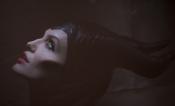 The Walt Disney Studios announced today that production began Wednesday, June 13th, on
"MALEFICENT"
starring
Angelina Jolie
.
Directed by production designer
Robert Stromberg
(
"AVATAR"
,
"ALICE IN WONDERLAND"
), in his directorial debut, and produced by
Joe Roth
,
"MALEFICENT"
is written by
Linda Woolverton
(
"THE LION KING"
,
"BEAUTY AND THE BEAST"
) and executive produced by
Angelina Jolie
,
Don Hahn
,
Matt Smith
and
Palak Patel
.
Co-starring in the film are
Sharlto Copley
,
Elle Fanning
,
Sam Riley
,
Imelda Staunton
,
Miranda Richardson
,
Juno Temple
and
Lesley Manville
.
This is the untold story of Disney's most beloved villain, Maleficent, from the 1959 classic
"SLEEPING BEAUTY"
. The film reveals the events that hardened her heart and drove her to curse the baby, Aurora.
Behind-the-scenes talent includes cinematographer
Dean Semler
, production designer
Gary Freeman
, costume designer
Anna B. Sheppard
and makeup artist
Rick Baker
.
"MALEFICENT"
is scheduled for a March 14, 2014 release in 3D.
Synopsis : The "Sleeping Beauty" tale is told from the perspective of the princess' evil nemesis, Maleficent.
French Release : 2014-05-28 - US Release : 2014-05-30
Source : Disney France
No comments.