INGLOURIOUS BASTERDS
That Bastard Brad Pitt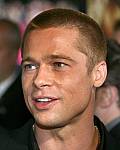 Brad Pitt has been officially cast in writer-director Quentin Tarantino's forthcoming World War II film
"INGLORIOUS BASTARDS"
. He will play the lead role of hillbilly soldier Aldo Raine, who leads a group of Jewish-American G.I.'s on a mission against the Nazis.
"You'll see something different with the two of them," producer Lawrence Bender told The Hollywood Reporter. "They're going to push each other and really help make something special."
Also joining the cast is The Office's B.J. Novak as PFC Utivich, described by THR "as a soldier of slight build who comes from New York."
Variety says filming begins on the Weinstein-Universal production Oct. 13 in Germany.
Synopsis : "Inglourious Basterds" (sic) begins in German-occupied France, where Shosanna Dreyfus (Mélanie Laurent) witnesses the execution of her family at the hand of Nazi Colonel Hans Landa (Christoph Waltz). Shosanna narrowly escapes and flees to Paris, where she forges a new identity as the owner and operator of a cinema.

Elsewhere in Europe, Lieutenant Aldo Raine (Brad Pitt) organizes a group of Jewish soldiers to engage in targeted acts of retribution. Known to their enemy as "The Basterds," Raine's squad joins German actress and undercover agent Bridget Von Hammersmark (Diane Kruger) on a mission to take down the leaders of The Third Reich. Fates converge under a cinema marquee, where Shosanna is poised to carry out a revenge plan of her own...
Source : allocine.fr / ign.com
No comments.