Filmography from : James Richards
Actor :
No Escape
,
Martin Campbell
, 1994
The year is 2022, prison systems from all over the world are now run by private corporations and have become business. After being sentenced to life imprisonment for the murder of his commanding officer who ordered him to wipe out innocent people. Convicted soldier John Robbins is dumped on the prison island Absolom (after he refused to execute his cell-mate and assaulted the Warden). On Absolom, convicts are put there to either survive or die....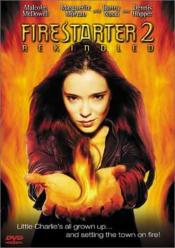 Firestarter 2: Rekindled
,
Robert Iscove
(2 episodes, 2002), 2
Charlie McGee is a young woman with the unwanted and often uncontrollable gift of pyrokinesis, lighting fires by mere thought. Charlie has been in hiding for nearly all her life from a top-secret government fringe group headed by the maniacal John Rainbird, who wants to find and use Charlie as the ultimate weapon of war. Vincent is a young private investigator unwittingly sent to look for Charlie, and evenutally tries to help her escape from...