Filmography from : Jane Bruce
Actor :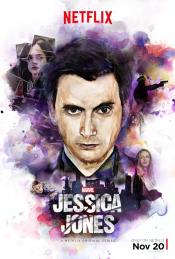 Jessica Jones 
,
Uta Briesewitz
(2 episodes, 2015-2018),
Simon Cellan Jones
(2 episodes, 2015),
SJ Clarkson
(2 episodes, 2015),
David Petrarca
(2 episodes, 2015),
Stephen Surjik
(2 episodes, 2015),
John Dahl
(1 episode, 2015),
Billy Gierhart
(1 episode, 2015),
Rosemary Rodriguez
(1 episode, 2015),
Michael Rymer
(1 episode, 2015),
Deborah Chow
(1 episode, 2018),
Neasa Hardiman
(1 episode, 2018), 2015
Ever since her short-lived stint as a superhero ended in tragedy, Jessica Jones has been rebuilding her personal life and career as a hot-tempered, sardonic private detective in Hell's Kitchen, New York City. Plagued by self-loathing and a wicked case of PTSD, Jessica battles demons from within and without, using her extraordinary abilities as an unlikely champion for those in need... especially if they're willing to cut her a check....
The Night of the Hunter
,
Charles Laughton
, 1955
It's the Great Depression. In the process of robbing a bank of $10,000, Ben Harper kills two people. Before he is captured, he is able to convince his adolescent son John and his daughter Pearl not to tell anyone, including their mother Willa, where he hid the money, namely in Pearl's favorite toy, a doll that she carries everywhere with her. Ben, who is captured, tried and convicted, is sentenced to death. But before he is executed, Ben is in...