JASON AND THE ARGONAUTS (1963)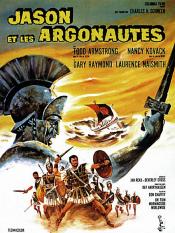 The legendary Greek hero leads a team of intrepid adventurers in a perilous quest for the legendary Golden Fleece.
Original Title : JASON AND THE ARGONAUTS
Director(s) :
Don Chaffey
Writer(s) : Jan Read, Beverley Cross
Year : 1963
Country : UK | USA
Langage : English
Coulor : Color(Eastmancolor)
Ratio : 1.85 : 1
Sound : Mono(Westrex Recording System)
French Released : 1963-10-09
US Released : 1963-06-19
Aka(s) :
Jason and the Argonauts - UK (original title)
Jasón y los argonautas - Mexico (imdb display title) / Spain
Jason et les Argonautes - Canada (French title) / France
Altin postlu cengâver - Turkey (Turkish title)
Argo tankentai no daibouken - Japan
Az aranygyapjú legendája - Hungary (imdb display title)
Det gyllene skinnet - Sweden
Det gylne skinn - Norway
Gli Argonauti - Italy
Jàson i els argonautes - Spain (Catalan title)
Jasão e o Velo de Ouro - Brazil (imdb display title)
Jasão e o Velocino de Ouro - Brazil (TV title)
Jasão e os Argonautas - Brazil (reissue title)
Jason and the Golden Fleece - (undefined)
Jason e os Argonautas - Portugal (imdb display title)
Jason i Argonauci - Poland
Jason i Argonauti - Serbia (imdb display title)
Jason und die Argonauten - West Germany
Kampen om det gyllene skinnet - Finland (Swedish title)
O Iason kai oi Argonaftes - Greece (transliterated ISO-LATIN-1 title)
Taistelu kultaisesta taljasta - Finland
Actors :
Todd Armstrong - Jason
Nancy Kovack - Medea
Gary Raymond - Acastus
Laurence Naismith - Argos
Niall MacGinnis - Zeus
Michael Gwynn - Hermes
Douglas Wilmer - Pelias
Jack Gwillim - King Aeetes
Honor Blackman - Hera
John Cairney - Hylas
Patrick Troughton - Phineas
Andrew Faulds - Phalerus
Nigel Green - Hercules
Ennio Antonelli - Dmitrius - Drummer on Argo (uncredited)
John Crawford - Polydeuces (uncredited)
Aldo Cristiani - Lynceus (uncredited)
Eva Haddon - Medea (voice) (uncredited)
Ferdinando Poggi - or (uncredited)
Doug Robinson - Eupaemus (uncredited)
Davina Taylor - Briseis (uncredited)
Tim Turner - Jason (voice) (uncredited)

No comments.
All informations are coming from http://www.imdb.com
This page has been seen 388 times.