JASON AND THE ARGONAUTS (1963)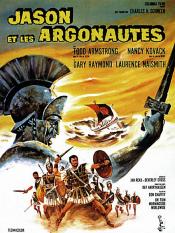 The legendary Greek hero leads a team of intrepid adventurers in a perilous quest for the legendary Golden Fleece.
Original Title : JASON AND THE ARGONAUTS
Director(s) :
Don Chaffey
Writer(s) : Jan Read (screenplay) &, Beverley Cross (screenplay),  , Apollonios Rhodios (poem 'The Argonautica') (uncredited)
Genre(s) : Adventure | Family | Fantasy
Length : 104 min
Year : 1963
Country : UK | USA
Langage : English
Coulor : Color(Eastmancolor)
Ratio : 185 : 1
Sound : Mono(Westrex Recording System)
French Release : 1963-10-09
US Release : 1963-06-19
Aka(s) :
(original title) - Jason and the Argonauts
- Jason and the Golden Fleece
Brazil - Jasão e o Velo de Ouro
Brazil (TV title) - Jasão e o Velocino de Ouro
Brazil (reissue title) - Jasão e os Argonautas
Canada (French title) - Jason et les Argonautes
Spain - Jasón y los argonautas
Spain (Catalan title) - Jàson i els argonautes
Finland (Swedish title) - Kampen om det gyllene skinnet
Finland - Taistelu kultaisesta taljasta
France - Jason et les Argonautes
Greece (transliterated ISO-LATIN-1 title) - O Iason kai oi Argonaftes
Hungary - Az aranygyapjú legendája
Italy - Gli Argonauti
Japan - Argo tankentai no daibouken
Mexico - Jasón y los argonautas
Norway - Det gylne skinn
Poland - Jason i Argonauci
Portugal - Os Argonautas
Serbia - Jason i Argonauti
Sweden - Det gyllene skinnet
Turkey (Turkish title) - Altin postlu cengâver
West Germany - Jason und die Argonauten
Actors :
 
Todd Armstrong Jason
Nancy Kovack Medea
Gary Raymond Acastus
Laurence Naismith Argos
Niall MacGinnis Zeus
Michael Gwynn Hermes /Priest
Douglas Wilmer Pelias
Jack Gwillim King Aeetes
Honor Blackman Hera
John Cairney Hylas
Patrick Troughton Phineas
Andrew Faulds Phalerus
Nigel Green Hercules
Ennio Antonelli Dmitrius - Drummer on Argo (uncredited)
John Crawford Polydeuces (uncredited)
Aldo Cristiani Lynceus (uncredited)
Eva Haddon Medea (voice) (uncredited)
Ferdinando Poggi or (uncredited)
Doug Robinson Eupaemus (uncredited)
Davina Taylor Briseis (uncredited)
Tim Turner Jason (voice) (uncredited)
No comments.
All informations are coming from http://www.imdb.com
This page has been seen 472 times.