Filmography from : Jay So
Actor :
Perdita Durango
,
Álex de la Iglesia
, 1997
Perdita Durango meets Romeo Dolorosa, a criminal who is some sort of priest of a satanic cult and keeps crossing the Mexican-US border safely. He's asked to do a job for crime boss Santos, involving the traffic of human foetuses for the cosmetic industry. Meanwhile, he needs to make a sacrifice to please his gods and a young American couple comes in his and Perdita's way. They are being followed by an unlucky DEA agent, the father of the...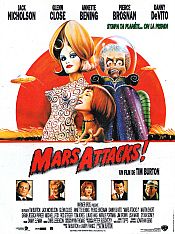 Mars Attacks!
,
Tim Burton
, 1996
When the USA satellites photograph many flying saucers coming to Earth, the American President James Dale has a meeting with his advisers. He is convinced by Professor Donald Kessler that Martians would be a developed culture and therefore peaceful by nature, in spite of the warnings of General Decker. The authorities, some civilians and the press prepare a welcome committee for the aliens, but they realize that Mars is actually attacking Earth....