Filmography from : John Furlong
Actor :
Vampires
,
John Carpenter
, 1998
...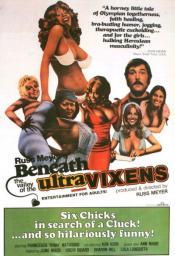 Beneath the Valley of the Ultra-Vixens
,
Russ Meyer
, 1979
Believe it or not even in Smalltown USA there are still people who are unfulfilled and unrelieved in the midst of plenty. Levonna & Lamar could have the perfect relationship if it were not Lamar's obsession with rear entry. After submitting to the one last time Levonna comes up with a plan. While Lamar is trying find other tail to try his technique on, Levonna becomes Lola with aid of a wig and a Mexican accent. A Mexican cocktail later Lola...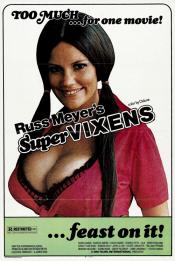 Supervixens
,
Russ Meyer
, 1975
Clint Ramsey has to leave his job working at Martin Bormann's gas station and flee after his wife is murdered by psycho cop Harry Sledge, who tries to pin the murder on Clint. Crossing America, Clint gets sexually harassed on all sides by various voluptuous nymphomaniacs, and it all ends in a literally explosive climax....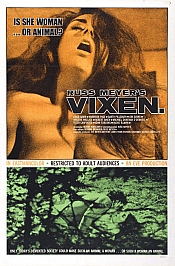 Vixen!
,
Russ Meyer
, 1968
Vixen lives in a Canadian mountain resort with her naive pilot husband. While he's away flying in tourists, she gets it on with practically everybody including a husband and his wife, and even her biker brother. She is openly racist, and she makes it clear that she won't do the wild thing with her brother's biker friend, who is black....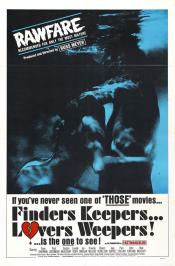 Finders Keepers, Lovers Weepers!
,
Russ Meyer
, 1968
Paul, the owner of a topless go-go bar on the Sunset Strip, isn't having a good day. His girlfriend, unbeknownst to him, is planning to rob his club, and his wife is having an affair with the hunky bartender....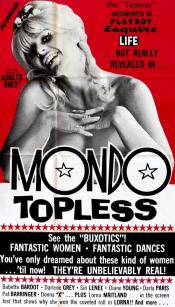 Mondo Topless
,
Russ Meyer
, 1966
Completely topless! Completely uninhibited! The wayout craze that began in San Francisco is now exploding across the USA and Europe. National publications have documented the "Topless", but nowhere has it been as thoroughly covered (or uncovered) as it is in Russ Meyer's rampaging motion picture Mondo Topless. The film is believably real - but "unbelievable" just barely describes all of Meyer's discotheque discoveries! Fantastic women, fantastic...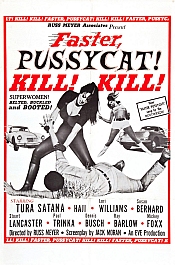 Faster, Pussycat! Kill! Kill!
,
Russ Meyer
, 1965
Three strippers seeking thrills encounter a young couple in the desert. After dispatching the boyfriend, they take the girl hostage and begin scheming on a crippled old man living with his two sons in the desert, reputedly hiding a tidy sum of cash. They become houseguests of the old man and try and seduce the sons in an attempt to locate the money, not realizing that the old man has a few sinister intentions of his own....