Filmography from : Josh Jefferies
Actor :
Ready Player One
,
Steven Spielberg
, 2018
In the year 2045, the real world is a harsh place. The only time Wade Watts (Tye Sheridan) truly feels alive is when he escapes to the OASIS, an immersive virtual universe where most of humanity spends their days. In the OASIS, you can go anywhere, do anything, be anyone-the only limits are your own imagination. The OASIS was created by the brilliant and eccentric James Halliday (Mark Rylance), who left his immense fortune and total control of...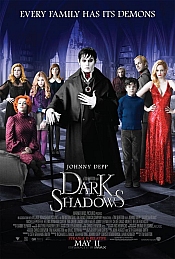 Dark Shadows
,
Tim Burton
, 2012
In the year 1752 Joshua and Naomi Collins, with young son Barnabas, set sail from Liverpool, England, to start a new life in America. But even an ocean was not enough to escape the mysterious curse that has plagued their family. Two decades pass, and Barnabas (Johnny Depp) has the world at his feet — or at least the town of Collinsport, Maine. The master of Collinwood Manor, Barnabas is rich, powerful and an inveterate playboy…until he makes...