Filmography from : Jun Tazaki
Actor :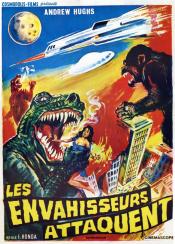 Les envahisseurs attaquent
,
Ishirô Honda
,
Jun Fukuda
(earlier film clips) (uncredited), 1968
Aliens have released all the giant monsters from their imprisonment on Monster Land and are using them to destroy all major cities on the planet. It is up to the daring crew of the super rocket ship X-2 to infiltrate the aliens' headquarters before the Earth monsters and King Ghidrah annihilate the planet. ...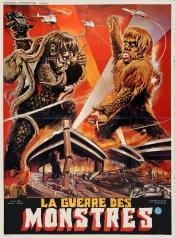 La guerre des monstres
,
Ishirô Honda
, 1966
A freighter is attacked by a giant octopus during a stormy night. The octopus is then attacked buy a hairy green giant. The gargantua then turns his attention to the ship and sinks it killing and eating all the crew except for one. When the surviving crew member tells the police what happened, they call in Doctor Paul Stewart and his assistant Akemi. Several years earlier, Stewart had a younger species of the same creature and it is feared that...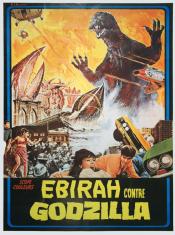 Ebirah contre Godzilla
,
Jun Fukuda
, 1966
A fisherman named Yata winds up missing after the boat he is working on sinks. His younger brother Ryota decides to search for him, but when the authorities refuse to help him he tries to enter a dance contest to win a boat to go search for Yata. When Ryota arrives at the contest he finds out he is too late by a few days, but meets up with two contestants who had already been eliminated named Nita and Ichino. The three youths then head for the...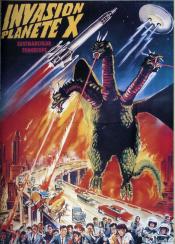 Invasion planète X
,
Ishirô Honda
(as Inoshirô Honda), 1965
Aliens from the mysterious Planet X, which resides on the dark side of of Jupiter, come to Earth asking its people to help them save their world from the dreaded King Ghidrah by letting them "borrow" Godzilla and Rodan. The aliens are actually planning to use the three monsters to take over our planet....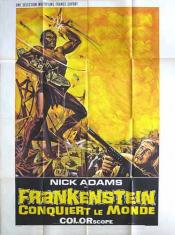 Frankenstein conquiert le monde
,
Ishirô Honda
, 1965
During WWII, a human heart taken from a certain lab in Europe (Dr. Frankenstein's) is kept in a Japanese lab, when it gets exposed to the radiation of the bombing of Hiroshima. The heart grows in size, mutates and sprouts appendages, and eventually grows into a complete body and escapes. Later, a feral boy with a certain physical deformity (a large head with a flat top) is captured by scientists who refer to the boy as Frankenstein. The creature...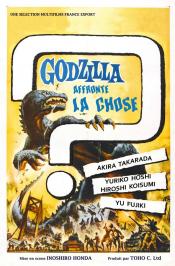 Mothra contre Godzilla
,
Ishirô Honda
, 1964
A greedy developer unwittingly hatches a gigantic baby moth upon Tokyo, while Godzilla strikes once again....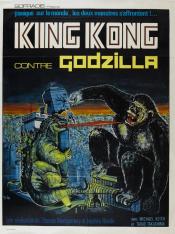 King Kong contre Godzilla
,
Ishirô Honda
(as Inoshiro Honda),
Tom Montgomery
(as Thomas Montgomery), 1963
A pharmaceutical company captures King Kong and brings him to Japan, where he escapes from captivity and battles a recently released Godzilla....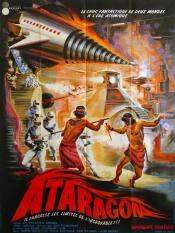 Ataragon
,
Ishirô Honda
,
Shûe Matsubayashi
(earlier film clips) (uncredited), 1963
Several strange occurrences are taking place all over the world including the disappearance of two engineers. Also, former admiral Kosumi is nearly kidnapped along with his secretary, and goddaughter, Makoto Jinguji. The kidnap attempt is thwarted by photographer Susumu Hatanaka and his assistant Yoshito Nishibe. It is later revealed the Mu Empire, which disappeared 12,000 years earlier, are responsible for all the occurrences and are planning...