"KILLER INSIDE ME" Finds New Director and Cast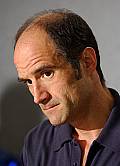 Elias Koteas (
"THE HAUNTING IN CONNECTICUT"
,
"ZODIAC"
) will be joining Casey Affleck and Jessica Alba in
"THE KILLER INSIDE ME"
.
Michael Winterbottom will be replacing Marc Rocco on directing duties. The final screenplay was written by Andrew Dominik, John Curran and Michael Winterbottom.
Published in 1952, "The Killer Inside Me" concerns a deputy sheriff in a West Texas town whose kind Everyman demeanor masks his true dark self. He is slowly revealed as a psychotic killer.
Rocco (
"MURDER IN THE FIRST"
) said financing is being finalized for a fall start, subject to casting.
Filming begins January in both Oklahoma & New Mexico.
Source : bloody-disgusting.com
No comments.