Filmography from : Koichi Yamada
Actor :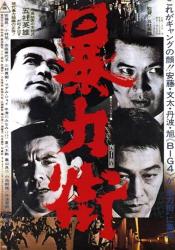 Bôryoku gai
,
Hideo Gosha
, 1974
A first cursory look at VIOLENT STREETS makes it seem that Hideo Gosha reverted back to the programme genre pictures out of which emerged as a bonafide auteur and stylistic visionary five years earlier with bold ambitious jidaigekis like GOYOKIN and HITOKIRI, this time treading ground he never did before in his career, the yakuza picture. Looking closer it becomes obvious that VIOLENT STREETS is both. A genre picture and a stylistic exercise....
Elle s'appelait Scorpion
,
Shun'ya Itô
, 1972
Matsu, known to the prisoners as Scorpian, is locked away in the bowels of the prison as revenge for disrupting the smooth operation of the prison and for her disfiguring attack on the warden. Granted a one day reprieve due to the visit of a dignitary, she takes advantage and attacks the warden again. This leads to more brutal punishment and humiliation. But the punishment gives her an oppurtunity to escape along with six other female prisoners....