LADYHAWKE (1985)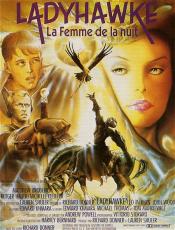 Philipe Gastone, a thief, escapes from the dungeon at Aquila, sparking a manhunt. He is nearly captured when Captain Navarre befriends him. Navarre has been hunted by the Bishop's men for two years, ever since he escaped with the Lady Isabeau who the Bishop has lusted after. Navarre and Isabeau have a curse that the Bishop has placed on them that causes Navarre to be a wolf during the night and Isabeau to be a hawk during the day. Navarre insists that Philipe help him re-enter the city to help him kill the heavily guarded Bishop.
Original Title : LADYHAWKE
Director(s) :
Richard Donner
Writer(s) : Edward Khmara (story),  , Edward Khmara (screenplay) and, Michael Thomas (screenplay) and, Tom Mankiewicz (screenplay) and, David Webb Peoples (screenplay) (as David Peoples)
Genre(s) : Adventure | Drama | Fantasy
Length : 121 min
Year : 1985
Country : USA
Langage : English
Coulor : Color(Technicolor)
Ratio : 235 : 1
Sound : 70 mm 6-Track(70 mm prints)| Dolby(35 mm prints)
French Release : 1985-03-27
US Release : 1985-04-12
Aka(s) :
(original title) - Ladyhawke
Argentina - Ladyhawke - El hechizo de Aquila
Bulgaria (Bulgarian title) - Жената-ястреб
Brazil - O Feitiço de Áquila
Canada (French title) - La femme de la nuit
Czechoslovakia (Czech title) - Jestrábí zena
Denmark - Ladyhawke og lommetyven
Spain - Lady Halcón
Finland (Swedish title) - Ladyhawke - den förtrollade falken
Finland - Ladyhawke - legenda haukasta
Finland - Legenda haukasta
France - Ladyhawke, la femme de la nuit
Greece (video title) - I gynaika arpahtiko
Greece (transliterated ISO-LATIN-1 title) - O lykos kai to geraki
Greece (TV title) - To geraki kai o lykos
Hungary - Sólyomasszony
Israel (Hebrew title) - Lady Netz
Italy - Ladyhawke
Japan (English title) - Ladyhawke
Mexico - El hechizo de Aquila
Peru (TV title) - El hechizo del halcón
Peru - Ladyhawke - El hechizo de aquila
Poland - Zakleta w sokola
Portugal - A Mulher Falcão
Serbia - Žena soko
Serbia - Žena-jastreb
Soviet Union (Russian title) - Леди-ястреб
West Germany - Der Tag des Falken
Actors :
Cast 
Matthew Broderick Gaston
Rutger Hauer Navarre
Michelle Pfeiffer Isabeau
Leo McKern Imperius
John Wood Bishop
Ken Hutchison Marquet
Alfred Molina Cezar
Giancarlo Prete Fornac
Loris Loddi Jehan
Alessandro Serra Mr Pitou
Charles Borromel Insane Prisoner
Massimo Sarchielli Innkeeper
Nicolina Papetti Mrs Pitou
Russel Case Lieutenant (as Russell Kase)
Donald Hodson Guard on Cart (as Don Hudson)
Gregory Snegoff Cart Driver
Gaetano Russo Guard in the Cell
Rod Dana Guard at the City Gate
Stefano Horowitzo Bishop's Bodyguard
Paul Tuerpe Guard
Venantino Venantini Bishop's Secretary
Marcus Beresford Acolyte (as Marcus Berensford)
Valerie O'Brian Peasant Girl (as Valerie O'Brien)
Nanà Cecchi Bishop's Woman
Elettra Baldassarri (uncredited)
Omero Capanna Francesco (uncredited)
Giovanni Cianfriglia One of Fornac's Men (uncredited)
Giuseppe Marrocco Prete (uncredited)
Paolo Merosi Acolyte (uncredited)
Jurgen Morhofer (uncredited)
Benito Stefanelli Bishop's Guard (uncredited)
No comments.
All informations are coming from http://www.imdb.com
This page has been seen 1868 times.