Filmography from : Larry Miller
Actor :
The Man Who Killed Hitler and Then The Bigfoot
,
Robert D Krzykowski
, 2018
A legendary American war veteran is recruited to hunt a mythical creature....
God Bless America
,
Bobcat Goldthwait
, 2011
Loveless, jobless and possibly terminally ill, Frank has had enough of the downward spiral of America. With nothing left to lose, Frank takes his gun and decides to off the stupidest, cruelest and most repellent members of society with an unusual accomplice: 16-year-old Roxy, who shares his sense of rage and disenfranchisement. From stand-up comedian and director Bobcat Goldthwait comes a scathing and hilarious attack on all that is sacred in...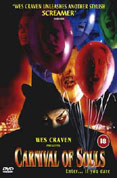 Carnival of Souls
,
Adam Grossman
, 1998
A young girl witnesses the brutal rape and murder of her mother by a circus clown and begins to have nightmares when the carnival comes back to town when she is an adult....