LESLIE, MY NAME IS EVIL (2009)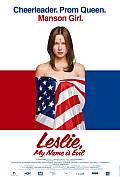 Perry, a sheltered chemist, falls in love with Leslie, a former homecoming princess, when he is selected to be a jury member at her hippie death cult murder trial. Perry has always done what is expected of him. He was a straight-A student who got a good job at a chemical company and proposed to his Christian girlfriend, Dorothy. Leslie took a different path after she was traumatized by Kennedy's assassination, an abortion and the divorce of her parents. She took LSD, joined a hippie death cult and helped murder a God-fearing citizen in her own home. When Perry and Leslie lock eyes in court, Perry is forced to confront the darkest parts of him and by extension, society. LESLIE, MY NAME IS EVIL is a film that explores how the choices Perry and Leslie make reflect upon the moral choices our society has made.
Original Title : LESLIE, MY NAME IS EVIL
Director(s) :
Reginald Harkema
Writer(s) : Reginald Harkema (uncredited)
Genre(s) : Comedy | Crime
Length : 85 min (Buenos Aires Festival Internacional de Cine Independiente)
Year : 2009
Country : Canada
Langage : English
Coulor : Color
Ratio : 185 : 1
US Release : 2010-10-12
Aka(s) :
Germany (DVD box title) - Manson Girl
UK (DVD title) - Manson Girl
Italy (DVD title) - Leslie - Il mio nome è il male
USA - Manson, My Name Is Evil
Actors :
Cast 
Peter MacNeill Judge
Gregory Smith Perry
Ryan Robbins Charlie /Leslie's Dad
Anjelica Scannura Sadie
Kaniehtiio Horn Katie
Kristen Hager Leslie
Don McKellar Prosecutor
Tom Barnett Defense Attorney
Tracy Wright Leslie's Mom
Kristin Adams Dorothy
Cindy Wolfe Nurse
Peter Keleghan Perry's Dad
Travis Milne Bobby
Sarah Gadon Laura
Stewart Arnott Star Spangled Company Supervisor
Matt Murphy Horse the Ranch Hand
Viviana Zarrillo Rosemary
Richard Zeppieri Knife-Wielding Jury Member
Robert Dayton Ponytail Jury Member
Sherry McLaughlin The Bailiff
Sima Fisher Hippie (uncredited)
Kristen Gutoskie Hotel Guest (uncredited)
Christina Jocic Ranch Girl (uncredited)
Robert Kennedy Juror (uncredited)
Lesly Mayhue Ranch Girl (uncredited)
Richard Nixon Himself (archive footage) (uncredited)
Nancy EL Ward Juror (uncredited)
Chaka Wolfe Jailhouse Cat (uncredited)
No comments.
All informations are coming from http://www.imdb.com
This page has been seen 1826 times.